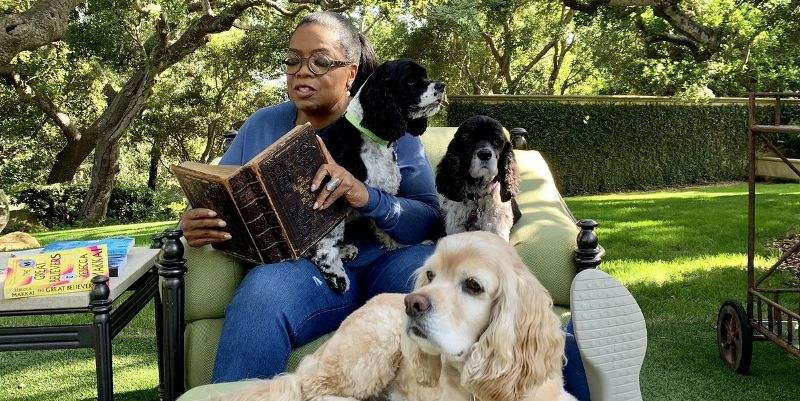 Oprah Gail Winfrey needs no introduction, she's a world-famous American talk show host, an author, a producer, and a philanthropist. Even if you haven't watched her show, you must've at least heard about her. If you are not familiar with her, one thing you wouldn't know about Oprah is that she's a dog lover and a huge advocate for puppy rescues. Therefore, it should come as no surprise that almost all of her dogs were rescues, and for nearly 30 years, she's had over 20 dogs. [1]Oprah Daily
List of Oprah Winfrey's Dogs
She often posts about her dogs on Instagram and Twitter, which just goes to show how much she loves her pooches. Though she had a lot of dogs in the past, nothing is known for most of them. As of today, she's a parent to three adorable hounds.
1. Sadie
Oprah's beloved pet, and inseparable from her. It is a Cocker Spaniel, which she adopted from a no-kill shelter in 2009. She introduced her new furbaby to the public during her show, and Sadie melted the hearts of the audience as she walked in wearing a polka dot orange dress. When asked how she chose Sadie, Oprah said that it was Sadie that chose her. She went to the shelter for a photoshoot, and just before that, Sadie caught Oprah's eye, and as soon as she licked her ear, Oprah knew that Sadie is coming with her, she felt an instant connection with her, and it can be seen in her photographs as she relaxes by Oprah. Another interesting thing about Sadie is that she's quite a fan of plant-based living, and she loves to indulge in vegan foods.
Me and Sadie in this month's @oprahmagazine—and 11 years ago when we first met at @PAWSChicago!😘🐶 pic.twitter.com/ZH08Rf4dnA

— Oprah Winfrey (@Oprah) September 9, 2020
2. Lauren
In the year 2010, Oprah adopted two Springer Spaniels who were just 14-weeks-old at the time. On one episode of her talk show, she stated that if she haven't had rescued these puppies they would've been euthanized, and these were her 56th birthday present to herself. Before adopting these dogs, she said that she was once thinking that she'd name her next dog Lauren, and coincidently, this Springer Spaniel was already named Lauren. It was fate that wanted Oprah to meet Lauren, and we're glad she did.
View this post on Instagram
3. Sunny
Sunny is also a Springer Spaniel and was at the same rescue center Sunny and Lauren are siblings. They also had a brother named Trent, who Oprah couldn't keep at the time, but she did find a great home for him during her show. In the early years with Lauren and Sunny, Oprah used to call them 'little hellions' because of how these girls were full of energy and would run around everywhere. Many years later, she stated that they are no longer hellions anymore, but are gentle pooches now.
4. Sophie
Sophie was a Cocker Spaniel, that was by the side of Oprah for 13 years and sadly passed away in 2008. She stated that Sophie used to suffer from separation anxiety and for this reason, she was on each episode of her show, and it didn't matter where Oprah went, Sophie was always with her. Oprah also stated that Sophie was one of her greatest teachers, and she didn't fully understand how much she loved this adorable pup until she passed away. She also said that nobody on earth had ever loved Oprah like that little dog.
5. Gracie
Another beloved pet of Oprah was a golden retriever. Unfortunately, she didn't get to spend enough time with Oprah, as she passed away at the age of two in 2007 by choking on a plastic ball that belonged to Sophie. According to Oprah, this was a saving grace, and an angel came to her in the form of a dog. She said her passing away acted as a sign for her to slow down in her life and take a breather, and said that Gracie lived fully in those 2 years than most dogs do in 12 years.
6. Luke
In 2005, Oprah went to adopt two golden retrievers, however, she saw Luke and just couldn't resist adopting him. She often used to refer to Luke as the most handsome dog in America. During an interview, she jokingly said that if it wasn't for Stedman, her partner, she'd have gone for Luke.
7. Layla
Remember the two dogs Oprah went to adopt in 2005? One was Gracie, and another one was Layla. Just like Luke, she often used to call Layla one of the most beautiful Golden Retrievers. She was unsure how her new Golden Retrievers would react when meeting with Sophie Solomon, so she called Cesar Milan, a popular dog whisperer to mediate their first meeting.
8. Solomon
Last but not least, Solomon, a chocolate Cocker Spaniel, who she received as a present for Christmas by Stedman in 1994. At 9-months-old, he contracted a deadly disease known as Parvo and terrified Oprah. During that time, Oprah slept at the hospital with Solomon, but thankfully, he made it through just fine. He stayed by her side for 14 years and he loved chicken.