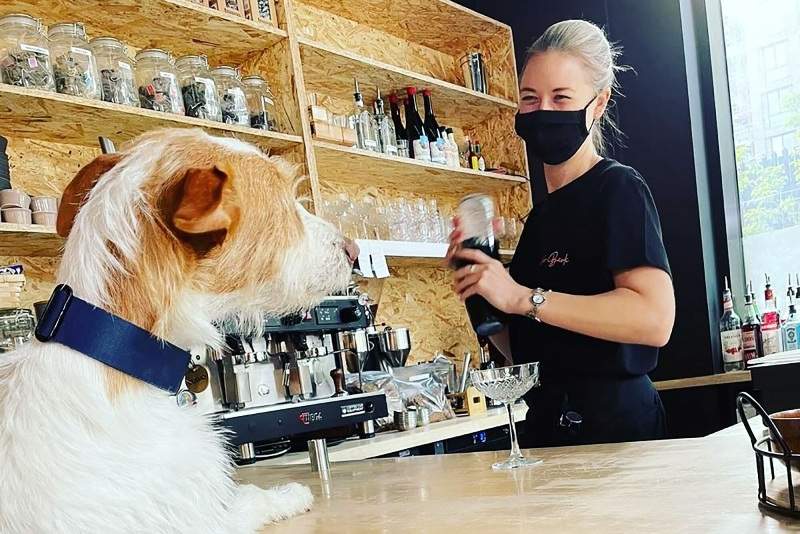 Manchester, easily one of the most famous cities in the United Kingdom, football fans and the LBGTQ+ community cherish this place because the first professional football league was established here, and it houses the world's oldest running LGBTQ+ bar. Apart from the museums and theatres, this city offers one of the best restaurants and pubs in the entire country. You'll find people of all age groups having a pint in these cozy bars, and best of all, there are plenty of dog-friendly restaurants in Manchester.
Best Dog-Friendly Restaurants in Manchester
While there are plenty of restaurants in this pet-loving city that allow dogs, it is important to know which ones are the best, and these are truly great options. [1]Manchesters Finest
1. The Counter House
Located at 35 Blossom Street, this restaurant offers breakfast, lunch, and dinner, they proudly serve delicious comfort food. It is a cozy place, and you feel like you are a part of the community at the Counter House. This area is full of dog lovers, and it is not a surprise that they allow dogs in the restaurant, however, there is an entry fee, a photograph of your dog, which I'm certain every dog parent is willing to pay. Overall, a great place to enjoy brunch with your dog.
2. Alberts Schloss
There are actually two restaurants, one in Birmingham and one in Manchester. This place specializes in rustic mountain feasts, as the owners went to Swiss Alpes, Germany, Austria, and France to create the menu, therefore, you can also expect a specialty of each country to be served here. The ambiance of this restaurant is very lively, as this place often has music performances and people partying. This place welcomes all small dogs, and the staff is more than happy to see your pooch. You will also be provided with water bowls for your dog.
3. Cottonopolis
This place is for the working class, who just want to unwind after a long work week. You can grab one of their lovely drinks while petting your dog for an almost therapy-like session in this Japanese-inspired bar and restaurant. They have traditional high stools, and it is always heart-melting to see small dogs relaxing on one of those. While they offer tasty food, I'd highly recommend visiting this place for the beers, as they are marvelous.
4. The Marble Arch
This is a classic English pub, where you order a pint of refreshing ale with a bag of crisps, and if you fancy a meal, their offerings are exclusively British; comfort food, hearty-cooked meals, and amazing roasts for the Sunday menu. It allows dogs, and you can have your beloved fur child sit by you, as you indulge in their delicious food, and refreshing pilsner.
5.  Foundation Coffee House
Now, if you don't feel like downing beers or cocktails with your dog, and prefer something hot and awakening, then you must visit the Foundation Coffee House. They offer a huge range of coffees, which is simply amazing, and don't worry tea lovers, they have 15 different teas as well. The environment is laid-back, and everyone in the restaurant is there to enjoy their coffee rather than grabbing a coffee and rushing out. Staff will be more than happy to see your dog, and offer pets.
6. The Bay Horse Tavern
A wonderful place that is cozy and relaxed. Offerings here are traditional as well, and when you visit this tavern, make sure you have some time on your hand because you wouldn't want to leave. Each main dish is served with either a side of mash or thrice-cooked chips. Being a tavern, you know their drinks are going to be amazing, and before you know it, you'd be downing more than you should. Dogs are welcomed here, and if you don't feel like sitting indoors, you can enjoy some fresh air on the patio with your dog.
7. The Refuge
This place is a refuge for people who work hard throughout the week, and want a relaxing escape on the weekends. The setting is beautiful, truly worthy of social media posting. Their food is flavorsome, however, if you already feel full, you can sit down for an afternoon tea, or perhaps you are looking to unwind, in that case, they offer a variety of cocktails. It doesn't matter what your heart desire, you can enjoy it all with your dog here.
8. Crazy Pedros
This place is best suited for your typical merrymaker, as they offer pizza, nachos, and drinks, a lot of drinks. Do be careful, not to take your dog here late at night because this place will be filled with other loud party lovers, which can be a little too much for your dog. At other times of the day, feel free to indulge in their pizza with your fur child.
9. Volta
This restaurant offers food inspired by various countries, so you can find a little bit of everything here. Either you can head upstairs to enjoy their food and drinks or sit indoors in the relaxed ambiance of their bistro-style setting. They also offer exclusive wines and craft beers for drink aficionados, and best of all, you can do it all with your four-legged child.
10. Mackie Mayor
This place is not your grandfather's classic restaurant. Mackie Mayor sees a majority of younger guests, and their entire menu and ambiance are designed with youth in mind. They serve pizzas, tacos, burgers, and all the people-pleasing foods along with craft beers and a huge collection of wines. At Mackie Mayor, you'll find a lot of owners with their dogs, so your dog will fit here just fine.
11. The Wharf
A favorite among the locals, and a place where you'll almost always find a dog. The staff is very welcoming of the dogs, and you can bring in dogs of any size. As for the food, they offer traditional British food that is beautifully cooked, which will have you wanting more. Along with the meals, order beers or gins to have a lovely time with your dog.