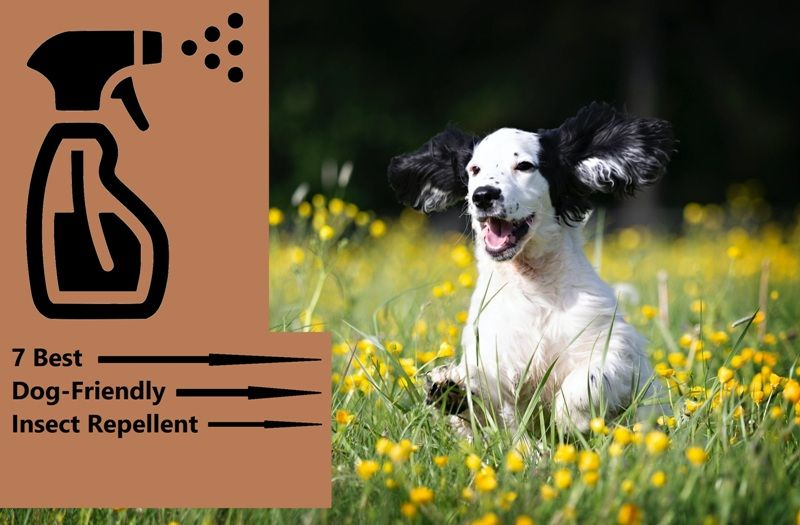 It is the season of insects once again. While winters are amazing, it restricts our moment heavily, and we don't even feel like doing anything because of the cold. During those times, we restlessly wait for the summers, and thoroughly enjoy it once it arrives, but unfortunately, it is accompanied by pesky bugs as well. It doesn't matter where we go or what we do, insects are always surrounding us in summers, and since your dog is also a warm-blooded being, mosquitos annoy them just as much. The viable option is to use an insect repellent, but before you use it, do understand that most of them are harmful to your fur child.
7 Best Dog-Friendly Insect Repellent
Before getting into this list, you must understand that you should avoid products with N, N-diethyl-meta-toluamide (DEET) because this chemical compound can cause tremors, seizures, and even death. While there are guides on the internet to create repellents with some essential oil for pets, they don't always work. Additionally, citrus juice is quite a great option for us humans, but it is extremely toxic to dogs and must be avoided at all costs. These products are effective, but only when used properly, simply spray them on the coat of your dog, avoiding their face and genitals, then simply rub their coat with their hands. With that said, let's see which bug repellents are harmless for dogs. [1]Pest Strategies
1. Wondercide Flea, Tick, and Mosquito Repellent Spray (Lemongrass)
When it comes to caring for your pet, Wondercide is a favored brand among many dog owners, and one reason behind it is that its products are 100% natural. This means no harmful chemicals that can harm dogs in the long run, especially DEET. It is recommended that you use this product about 3 to 4 times a week for optimal results. Not only will it repel mosquitoes, but ticks and fleas alike, however, one downside of this product is that it has a strong odor that can be a little too much for some dogs.
2. Wondercide Flea, Tick, and Mosquito Repellent Spray (Peppermint)
Another product from Wondercide, the main ingredient in this specific product is cedar oil. This is proven to be great against insects, while not harming your dog whatsoever. While you might be thinking both of these products are the same, that is not the case. This is specifically designed to kill mosquitos as soon as they touch this product, and it can also be used on cats. One huge benefit of this spray over the previous one is that it doesn't have a strong odor, however, it is not effective against ticks, and it has a soapy consistency.
3. Nantucket Spider Bug Repellent for Dogs
This product is not only DEET-free but also non-GMO. Nantucket protects your dog against mosquitos, flies, ticks, gnats, bees, and of course, spiders. Just like previous products, it consists of natural ingredients only and is free of any chemicals, furthermore, it won't cause damage to your furniture or any other surfaces. It is specifically designed to make it long-lasting. One downside of this product is that it is not very effective against ticks.
4. Bug Soother Spray
Quite a catchy name, and unlike other products it comes in a canister, but similar to other products, it is made of natural ingredients as well. The main ingredient in this product is lemongrass oil, and the rest of the ingredients are present to make its fragrance as pleasant as possible. Unfortunately, this pleasing fragrance comes at a cost, as this product is not very effective against mosquitoes and ticks.
5. Sawyer Products Insect Repellent with 20% Picardin
One great thing about this repellent is that it is completely odorless, so if your dog is sensitive to smell, this might be the best choice for you. As mentioned in its name, the active ingredient is picaridin, a chemical that is known to repel insects. Moreover, it is a long-lasting spray and will last for about 12 hours. Also, it is non-greasy and won't leave any stains on surfaces or clothes. The only downside of this product is that it contains pesticides.
6. Bayer K9 Advantix II for Small, Medium, Large, and X-Large Dogs
This is an effective and easy-to-apply product, that lasts for approximately 12 hours. It starts killing bugs as soon as they come in contact with this product, and it's usually recommended by veterinarians. The active ingredients of Bayer K9 Advantix II are Imidacloprid, Permethrin, and Pyriproxyfen, and the rest of the ingredients are not mentioned. Although it is quite effective, it contains three insecticides, which can have adverse effects on some dogs.
7. Skeeter Screen Pet Spray
Unlike other products on this list, Skeeter has developed a new formula with advanced mosquito-repelling technology. It uses highly concentrated blends of specific essential oils to repel pesky insects. It is DEET-free and can be used in any type of environment. The downside of this repellent is that you need to apply quite a large amount of it for it to function properly.