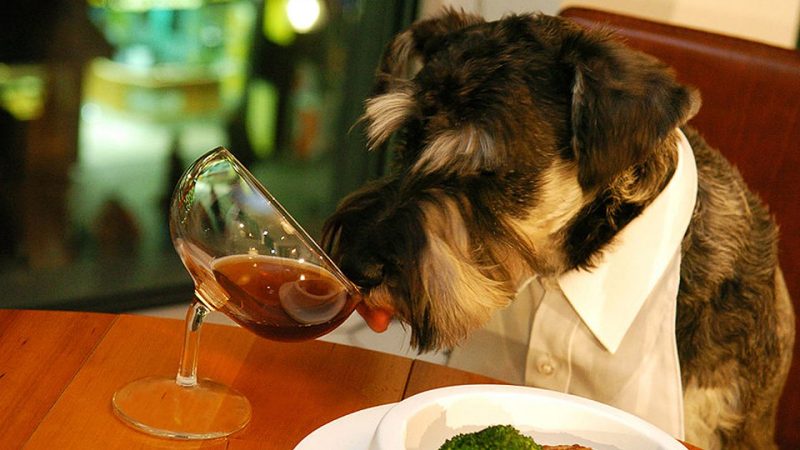 You aspire to be a wine sommelier, or maybe you just love wine, and why wouldn't you? It is sophisticated nectar of Gods, after all.  Whatever your reason might be, one thing is for certain, you are traveling the world, and visiting all the greatest wineries. Livermore Valley, California is your next destination. Now, the only problem is that you are not alone, you'd be accompanied by your beloved dog on this journey, and you simply cannot leave your fur child behind. Well, there's no need to worry because there are a lot of wineries in this region that would welcome you and your pooch.
Best Dog-Friendly Wineries in Livermore
10. 3 Steves
On the grand scale of wine-making, this winery is fairly new. Opening in 2013, this was a result of a passionate idea that struck the mind of three friends while enjoying a bottle of wine. Interestingly enough, all three of them are named Steve, what were the chances of that? You can visit this place during the weekends, throughout the year. While dogs are welcome here, they must be on a leash. It doesn't matter when you visit this place, there will always be someone to welcome you, so just take a glass and sip their award-winning sauvignon blanc while gazing at the beautiful scenic view with your dog.
9. Bent Creek Winery
Tom Heineman always dreamt of owning a piece of land, and this dream became a reality in 1981 when Tom and his wife purchased 12 acres of land in Livermore. Initially, they had no plan of opening a winery of their own, but to only grow grapes to supply to the nearby wineries. However, after several years of selling grapes, the couple studied enology at UC Davis, and opened the Bent Creek Winery in 2002. It is truly a beautiful place to enjoy some delicious wine with your dog. They also participate in Wine and Wag, which is an annual event that pairs wine and rescue animals to raise more awareness.
8. Dante Robere
This winery has a premium feel to it, and the reason for that is that this winery is a result of the passion of two people, Dan Rosenberg and Bob Bossi, who have been friends for 40 years, who were an accountant and an insurance agent. Bob has been enjoying wine for many years, but in 2003, Dan got the wine bug, and both of them started traveling across California to learn more about this lovely drink. In the following years, they experimented with winemaking and expanded their knowledge of wines, and ultimately, opened Dante Robere in 2015. As for your pet, just have your fur child on a leash, and they can enjoy the relaxed ambiance of this place, while you enjoy a delicious glass of wine.
7. Darcie Kent
Darcie had a love for wine running in her blood, as her great-grandfather, Fritz R. Ruegsegger was an established vintner, his winery in St. Joseph, Missouri was flourishing, but due to 1920s prohibition law, that crippled the entire brewing industry, his winery was shut as well. As they say, true love cannot be separated, Darcie was drawn to this industry, and in 1996, established Darcie Kent winery, where this talented vintner, not only creates the wine but also paint the labels by herself. Since Darcie is a dog person herself, her staff will be more than willing to provide your pooch with treats, and fresh clean water, all you have to do is keep your beloved dog on a leash.
6. Longevity Wines
The founders, Debra and Phil, established this winery in 2008. This is a certified minority-owned business, and you'd love to enjoy wine in their barn-themed tasting room, as they both designed it themselves. Phil even designed the sophisticated heart-shaped logo that goes on each bottle, and it was inspired by artisan glasses, that Phil gifted Debra on each Valentines' day. In 2018, it was recognized as the Winery of the Year in 2018 Livermore Valley Winegrowers Association. Both of them are dog parents themselves, and they are more than welcoming when it comes to your dog.
5. Mitchell Katz
One unique thing about this winery is that they only produce each batch of wine from a specific vineyard, which gives their wines an interesting taste. The founder, Mitchell Katz, prides himself on using the most pristine grapes in the valley. Mitch used to hand-pick grapes with his grandfather during summers, and his grandfather would create wines. Mitch decided to continue this family tradition, and he established this winery in 1998, in memory of his grandfather. The weather and climate here are amazing, and you are more than welcome to bring your dog here, not only on the patio but also in the tasting room as well. Just keep them leashed, and you can enjoy their unique wine while petting your dog.
4. Murrieta's Well
The history of this winery goes back to the late 19th century. Founder, Louis Mel purchased a piece of land here in 1884 and started producing wines in gravity flow building. However, in 1940, for unknown reasons, the winery ceased to be, and he sold the property to one of his friends, Ernest Wente, and the property has been a part of Wente's family ever since. Finally, in 1990, Philip Wente and Sergio Traverso partnered together and decided to reopen the winery and rename it Murrieta's Well. It is an amazing place to be during summers. While it welcomes dogs, they are only allowed on the ground floor.
3. Page Mill Winery
The founder, Dick Stark established this winery in 1976 at the foothills of the Santa Cruz Mountains, and for 28 years, it stayed at the place. However, owners decided a change was needed when the business was flourishing in the basement of their original place, and thus, the Page Mill Winery was relocated to Livermore in 2004. The building itself is rustic that has a medieval look to it, and personally, it is one of this place's charms. As for your dog, they must be on a leash, and staff here will be more than willing to provide your pooch with fresh water and treat. For this particular winery, reservations are required.
2. Retzlaff Vineyards
What's better than wine with your dog? Wine with your dog while music is being played in the background. Retzlaff Vineyards hold music events each Sunday, so make sure you visit this place on this day. A former sheep rancher, Gloria Retzlaff Taylor, discovered this place in 1970, and soon after that her family moved to the location, and decided to make this place a winery. The Taylor family planted their vineyard in 1977 and opened a tasting room in 1983, and since then they have been producing exquisite wines. This place is suited for people who like the outdoors, but prefer shade, and this makes it a great spot for picnics as well. Bring your well-behaved dog to this place, and indulge in their wines.
1. Wood Family Vineyards
This winery's origin is as romantic as the wine itself. In 1984, Michael and Rhonda met each other at a Lodge, and immediately felt a connection, they started conversing over glasses of wine, and a beautiful relationship began. They bought their first house that overlooked Weibel Vineyards in Fremont, and they both dreamt of owning a winery of their own. Once they bought their second home, they planted 18 grape vines, also in Fremont, and before those grapes reached maturity, they found Crane Ridge Vineyards in Livermore. They bought the property with 8037 vines. Rhonda bid farewell to her piloting career, and invested all her time in this winery, while Michael, a Chief Financial Officer, helped out as much as he could. Finally, in 2017 they opened their tasting room, and this place continues to produce impressive wines, especially their award-winning Chardonnay. This family also has a lovely silver labrador named, Sauvy, and they will welcome your fur child, as long as it is on a leash. However, if your dog is misbehaving, you can be asked to leave them outside, despite that they provide milk-bones for all dogs, so make sure to get those for your fur child.