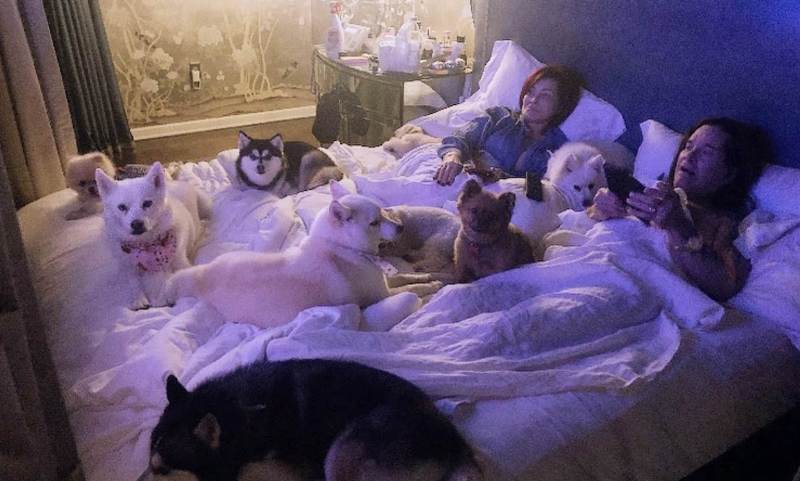 If you are a fan of metal music like me then you already know the creators of this genre, Black Sabbath. The band's lead singer, Ozzy Osbourne is quite famous for his music and speech that is borderline impossible to understand, and, likely, you are also familiar with her wife, Sharon Rachel Osbourne, she's a TV personality, an author, and music manager. Though she was already popular, she became even widely famous after her TV show and being in various movies. Another reason, behind her popularity, is her love for her pets, all of her dogs are either rescued or adopted, she and Ozzy even opened a puppy daycare.
List of Sharon Osbourne's Dogs
In total, Sharon Osbourne is a mother to 10 fur children, out of which 2 are cats, named Mo-Mo and Puss. [1]Sharon Osbourne
1. Bella
It is always said that a mother doesn't have a favorite child; however, Bella seems to be the most beloved dog in the pack. One can even say she is a diva and almost as popular as Sharon herself. Since the day Sharon got Bella, she has been a part of countless TV shows and she often travels, not just any form of travel, but Sharon ensures that her beloved dog travels first class, and unlike many of us, Bella had been around the world multiple times. Bella also became quite a popular pooch as in 2018 she was on the cover of Dog Magazine. Bella is a Pomeranian and is about 11-years-old. She's a loving pooch, although she loves biting the ankles of people as they leave their house. Furthermore, Sharon describes Bella as her angel and says that whenever she is away, she constantly thinks about Bella. No wonder, Bella loves being around Sharon. Also, Bella has hung around with many celebrities and even has a personal Twitter account.
That is my fur baby Bella @PrincessBellaO in this week's @TheXFactor. I adore her. #XFactor pic.twitter.com/JIEdykDv0g

— Sharon Osbourne (@MrsSOsbourne) October 5, 2013
2. Rocky
Rocky isn't necessarily Sharon's dog, it's Ozzy's, but given Sharon's love for animals, Rocky spends more time with Sharon. If Bella is a diva, then Rocky is a rockstar, in fact, that's his official name; Rocky the Rockstar. He's also been on the covers of numerous magazines, he surely has the stardom of a rockstar. Just like Ozzy, Rocky has a long-haired full coat which is truly beautiful, and I'm sure all the fashion designers want to imitate his looks, and if that was not enough, Rocky is known to enjoy music while headbanging like a true metal fan, and he also has his personal Spotify playlist. Moreover, Rocky has an extremely busy schedule and rarely has time for fellow dogs or humans, for that matter. One interesting fact about Rocky is that Ozzy's son, Jack hired an artist, Lisa Ober to create a painting of Ozzy with Rocky, which was hung at a museum, however, the artist was so mesmerized by the handsome Rocky, that she had painted a small portrait of Rocky as well. Rocky is an 11-year-old chocolate Pomeranian who's living his best life.
The real winner of the Westminster Dog Show – Rocky the Rock Star pic.twitter.com/LBrE24ZYQk

— Sharon Osbourne (@MrsSOsbourne) February 17, 2016
3. Moe
While Rocky and Bella are hugely famous and can be seen with Sharon and Ozzy all the time, Moe and other dogs are rarely seen outside the house or on TV shows. Moe is also a pomeranian of unknown age. Other than some pictures and videos over the internet, not much is known about Moe, although Moe's smile is truly adorable and makes one want to instantly cuddle this smiling furball.
I love this drawing of my Moe so much! #FurBabyFriday pic.twitter.com/5lTaQhbIK5

— Sharon Osbourne (@MrsSOsbourne) September 27, 2014
4. Flick
Another Pomeranian in the family, and sadly, similar to Moe not much is known about Flick either, even the age is unknown. It would be nice to know more about these dogs as well.
5. Charlie
Charlie is a 12-year-old Yorkshire Terrier Mix who was a rescue, and it is safe to say that Charlie is a pooch that wants to live being aligned with nature. He loves barking at birds, perhaps he has some old pending business with them, but one thing is certain, he is at his fullest in nature. Charlie is a strong advocate for saving water, as he prefers not to bathe and save this precious element, and due to this, he often smells which is often referred to as Earthy smell.
6. Alfie
Another rescued pooch in Sharon's pack, Alfie is the most senior member of the fur department at 16-years-old. As for the breed, it has never been told by Sharon, but some speculate it is a mix of Maltese, Shih-Tzu, and even a Yorkie. He also underwent surgery in 2018, from which he came out fine.
Alfie in today's episode of @TheTalkCBS pic.twitter.com/L7DtnFyNOA

— Sharon Osbourne (@MrsSOsbourne) April 15, 2016
7. Elvis
Named after the world-famous performer, Elvis Presley, he is the newest addition to the Osbourne family. It is clearly seen that Sharon has a soft spot for Pomeranians, and Elvis happens to be a mixed breed of Siberian Husky and Pomeranian. He is adorable and a handsome dog. Elvis' age is not confirmed by Sharon, but one thing that is certain is that Elvis has his personal bed with his name embedded on it. Also, Elvis is seen on various TV shows.
Elvis got an upgrade at @TheTalkCBS 🐕 pic.twitter.com/VYvjX3Us41

— Sharon Osbourne (@MrsSOsbourne) March 4, 2021
8. Pepsi
Pepsi was adopted by the Osbournes in the year 2018, she's a 12-year-old Maltese mix. Originally, Pepsi belonged to the grandmother of one of Sharon's friends, but she passed away at the age of 101, leaving Pepsi orphaned. Fortunately, Sharon adopted her, and she states that on her first day in the house, Pepsi found her way to the master bedroom, and just never left since. [2]Pets by Nature
9. Minnie
While the previous ones are the present pooches of the Osbourne family, in the past, Sharon used to have a favorite dog that sadly, passed away due to pneumonia in 2008. It was a Pomeranian, named Minnie, and she was quite famous and loved. Sharon stated in one interview that it was Minnie that helped her through her difficult times as Minnie would simply come to her and lay beside her. Minnie was so loved that Sharon's third granddaughter is named after her.