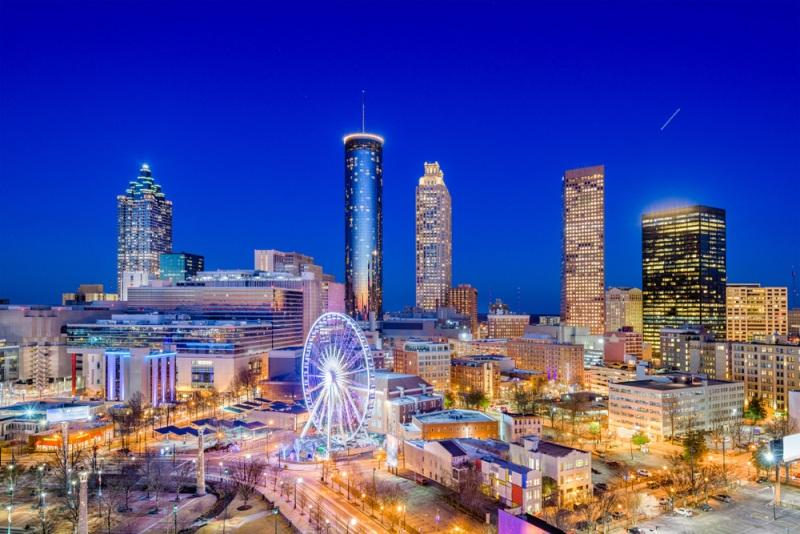 Founded in 1837, Atlanta's every corner is laced with history, and this is one of the main factors that attract people to this city. However, just because it is full of history, it doesn't mean it is a boring place. Atlanta is admired for its street art, museums, delicious coffee brews. As for shopaholics, Atlanta is heaven, as it gets the latest trends early, and even shop owners from the entire country visit Atlanta to take advantage of this. Being such extensive coffee and shopping culture, it doesn't come as a surprise that numerous locations welcome dogs on their premises. Additionally, there are designated off-leash dog parks in Atlanta, therefore, it is only logical to have your dog trained to have them by your side all the time.
Frogs to Dogs
A unique name to say the least, but having your dog trained from them is amazing, as they have received over 100 positive reviews on Google Maps alone. Established in 2005 by Andrew Zbeeb, Frogs to Dogs have become one of the most reputed dog training centers in Atlanta. Andrew always had an attraction towards animals, and he has worked with dogs, cats, birds, and wild animals as well. Being such a huge animal lover, he only hires trained professionals who are also passionate about animals, and his staff consists of 12 trainers and 21 sitters, quite a large organization. When it comes to training, they have at least 2 group sessions daily, but you can always take private lessons for puppies, obedience training, and behavior modification. You can also enroll your dog in their boarding services for thorough training.
Address: 318 E Howard Ave, Decatur, GA 30030, United States
Website: http://www.frogstodogs.com/
Contact No: +1 404 735 6237
Location on Google Maps:
Peachtree Dog Training
Peachtree Dog Training offers an in-house training service, and they travel the entirety of Georgia to train dogs. They take this approach to mitigate the need to bring your dog to a facility, and to make dogs comfortable in their known environment without any distractions. Peachtree Dog Training's owner Christina Dore, has 26 years of experience working with the most severe cases of anxiety and aggression. With so much experience, Christina understands that aggression simply isn't because of anger, but it can also originate from fear or possessiveness. When it comes to training, they offer puppy training, guidance for new pet owners, group classes, and first aid as well. They also have a third-party boarding service with Lucky & Lady.
Website: http://www.peachtreedogtraining.com/
Contact No: +1 678 358 0658
Location on Google Maps:
Lucy & Lady
It is among one of the best boarding and daycare facilities in Atlanta. They provide comfort, exercise, stimulation, and human interaction during your pet's stay so that they feel refreshed after leaving the facility. When it comes to training, they only use positive reinforcement along with their enrichment and engagement program, in which they socialize dogs for optimal results. If you have a particularly difficult dog, then, they'll recommend their private lessons. In addition to these, they offer daycare, grooming, and spa services for dogs as well as cats. Moreover, they have a self-wash service, in which you bathe your dog at their facility, while they provide shampoo, towel, and dryer.
Address: 975 Memorial Dr. SE #810, Atlanta, GA 30316, United States
Website: https://www.luckyandlady.com/
Contact No: +1 404 482 0613
Email: info@luckyandlady.com
Location on Google Maps:
Pete the Dog Trainer
Pete believes that the best way to train dogs is by bonding with them and developing mutual respect. He says that after a training session, a dog owner should have a better understanding of their dog, and what makes it tick. Pete wants to make the connection between the dog and its owner deeper. He offers puppy training and obedience training, in addition to providing individualized plans catering to each dog. In an individual session, Pete evaluates the dog, then, provides training to both the dog and the owner for long-lasting results. Furthermore, he also offers dog walking services.
Address: 506 North Highland Avenue Northeast, Atlanta, GA 30307, United States
Website: http://www.petethedogtrainer.com/
Contact No: +1 770 596 4422
Email: pzuppardo@gmail.com
Location on Google Maps:
Full Contact K9
Full Contact K9 is a training academy that sells already trained guard and protection dogs, in addition to offering puppy training, protection training, basic, intermediate, and advanced obedience training for domestic dogs. They advocate that each dog owner must be willing to live a healthy lifestyle for their dog because, unlike us humans, dogs require exercise to live optimally. Their basic obedience training consists of following commands, greeting visitors politely, and recalling, while their intermediate training teaches dogs how to follow hand signals, and to always follow you. Lastly, their advanced obedience training enables dogs to follow all the commands, but without a leash.
Address: 1040 Boulevard SE suite m, Atlanta, GA 30312, United States
Website: https://www.fullcontactk9.com/
Contact No: +1 678 805 4466
Location on Google Maps:
Dog Park Ready
The story of this organization started when owner, Scott Malvestiti adopted his first dog, Sergio, a Pitbull Sighthound mix in 1997. Sergio was shy, nervous, anxious, and to make him a confident and affectionate dog, Scott started taking Sergio to dog parks, and they would daily spend 3 hours at the park. Shortly afterward, a dog walker asked him to walk his dog, and that is how he became a dog walker. Finally, in 2016, Scott and his family moved to Atlanta, and this is when he decided to become a dog trainer. As of now, he offers dog walking and private classes to deal with behavioral issues of dogs, but he is also thinking to start small group classes.
Address: 2271 Hosea L Williams Dr. SE, Atlanta, GA 30317, United States
Website: https://www.dogparkready.com/
Contact No: +1 404 806 3788
Email: info@dogparkready.com
Location on Google Maps:
Canine Decoded
Although this academy provides obedience training, they are mostly called when the cases become severe, and other trainers fail to get a hold of the dog. Canine Decoded deals with behavior issues such as aggression, leash reactivity, anxiety, lunging, and disobedience. Their staff has been working with dogs since their childhood, all of them are certified, and they understand the importance of communication. They provide a virtual curriculum, which allows owners to follow the progress and know what to expect. Additionally, they make sure that the owner is also feeling empowered as the dog is getting trained because ultimately, dogs behave in accordance with their owners' feelings. Also, they only provide in-house training.
Website: https://www.caninedecoded.com/
Contact No: +1 917 345 2236
Location on Google Maps:
Redemption Road K9
Regarded as one of the best working dog companies established by John Anthony, also known as the Dogman, Redemption Road K9 has a lot to offer when it comes to dog training. They provide services for medical service work, police, search & rescue, agility, personal protection, obedience, and competition. One great thing about Redemption Road K9 is that they are aware of the sad reality that most of the dogs purchased or adopted are returned to shelter because they become difficult to keep at home, and this academy specializes in behavior modification of such dogs. Apart from the commercial services, they provide in-house training for domestic dogs, while educating owners about their dogs.
Website: http://www.redemptionroadk9.com/
Contact No: +1 404 500 9304
Email: contact@redemptionroadk9.com
Location on Google Maps:
A Well Behaved Dog
The name says it all, Amanda Self works closely with dogs to make them well-behaved for households. Amanda first got certified as a dog trainer in 2008, and in the following years, she continued to expand her knowledge about dog training by taking dog certification exams annually. She only uses positive reinforcement, and she is known to be extremely patient with both the dogs and the owners. As for the training, she offers in-house classes and group training in parks. This way, it mitigates the need to travel all the way to a facility.
Website: http://awellbehaveddog.com/
Contact No: +1 770 314 6018
Email: amandadogtrainer@gmail.com
Location on Google Maps:
Ruff Runners
This business was launched in 2018 by Jordan Ryan, with the sole purpose to exhaust the dog's pent-up energy whose owners were unable to take them on a walk. While you can get away with not exercising smaller dogs, but when it comes to dogs like Doberman, German Shepherds, and other athletic breeds, they require plenty of strenuous activity to not become aggressive. This is where Ruff Runners come into play, and take these dogs on long runs, this allows dogs to release their energy, which results in much calmer hounds. Now, granted this is not like behavior modification, but for most owners, this suffices. They also provide leash training, which is also essential to teach a dog.
Address: 2110 Settle Cir SE, Atlanta, GA 30316, United States
Website: http://www.ruffrunnersatl.com/
Contact No: +1 315 516 1592
Email: ruffrunnersatl@gmail.com
Location on Google Maps: