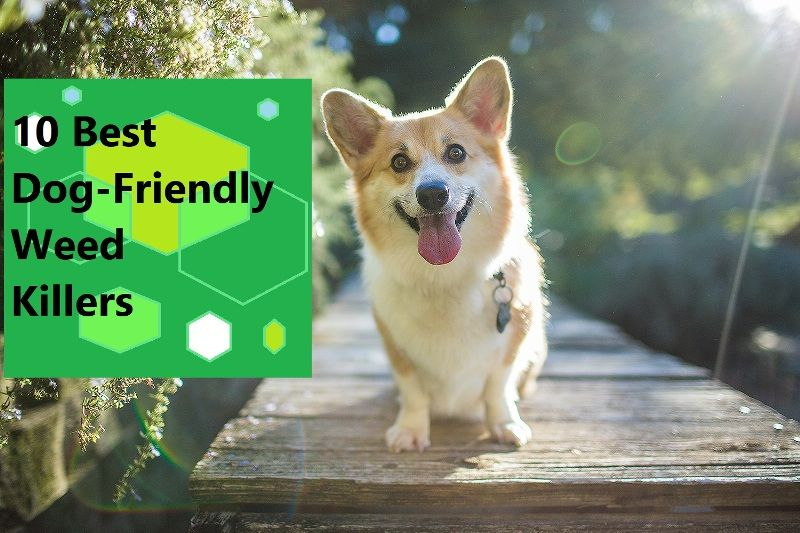 If you are a resident of the countryside or maybe you live in the suburbs and have a huge personal garden, then you are more than familiar with weed. These pesky plants, start growing by themselves and it doesn't matter how much you trim them away, they keep coming back. The only solution for this problem is chemical killers, but being a dog parent, the safety of your pooch is important, as dogs are always around the plants for a leak. No need to worry, there are weed killers available in the market that are dog-friendly. However, before you rush to your nearest supermarket to buy these products, try pouring boiling water or vinegar on unwanted plants. If the problem still persists then give these products a try.
10 Best Dog-Friendly Weed Killers
All of these products are Glyphosate-free, which is a harmful chemical for dogs. [1]BarkVa
1. Green Gobbler Vinegar Weed Killer
This name comes on top, time after time in each list of weed killers that are pet-friendly. The primary ingredient here is vinegar at a 20% concentration, which makes it more effective than regular vinegar which is usually concentrated at 5%. Another plus point of this product is that you can directly spray it from the bottle, which goes to show that it is not extremely poisonous. It is also biodegradable.
2. Doctor Kirchner's Natural Weed Killer
Doctor Kirchner is transparent with their products and boldly mentions all their four ingredients; salt, water, soap, and vinegar. The majority of its composition is salt, but commercial-grade vinegar and soap also play important roles. One thing to remember about this product is that it is a non-selective solution, meaning it will wipe out any type of plant that it comes in contact with, so be mindful when using this product.
3. Natural Armor Weed And Grass Killer
Natural Armor is specifically designed to kill over 250 species of weed plants. This solution resembles a homemade weed killer, but with commercial-grade ingredients. It consists of vinegar, glycerin, citrus, sodium, essential oil, and water, while all these ingredients are labeled, exactly which type of citrus, sodium, and essential oil are used is unknown. This product is harmless to dogs, but owners usually complain about the effectiveness of this weed killer. Though it is not mentioned anywhere in the advertisement, it is a fact that citrus is toxic to dogs, so just be wary of this product.
4. ECO Garden Pro Organic Vinegar Weed Killer
This is completely harmless to your pooch, though only three ingredients are listed on the label, the rest remains a mystery. It is made up of salt, vinegar, and water, along with unknown ingredients, this solution is more than enough to get rid of the weed. A huge advantage of this product is its flexibility, it can be used pretty much anywhere from lawns to driveways without causing any damage to your dog.
5. Energen Carolina Vinegar Weed Killer
Energen Carolina stays true to its name, as it is heavily based on vinegar, and thanks to that it is safe for dogs. Just like any other commercially produced product, ingredients are not clearly mentioned. Though it is safe for dogs, some users have complained about its safety concerns for birds.
6. Espoma Weed Preventer Plus
It is a different kind of product from the previously mentioned weed killers because it is actually a weed preventer. It stops the weed from growing in the first place, a far better approach, honestly. As for its composition, there's only one ingredient; corn gluten meal. It is harmless to dogs and keeps most weeds at bay.
7. Just For Pets Weed Killer Spray
As you can already tell by the name of the brand, it is specifically designed by keeping the safety of your pets in mind. The ingredients in this solution seem to be a bit concerning, however, owners around the globe praise this product and claim it has no effect on their dogs.
8. OrganicMatters Natural Weed Killer
Once again a product with mystery ingredients because its manufacturer refuses to disclose them, seems to be a trend with most of them. Despite that, it seems to be a great solution against weed while keeping your pooch safe. Also, it dries out quite quickly, ensuring the safety of your dog.
9. Preen Weed Preventer
Another weed preventer on the list, and similar to Espoma, it also consists of just one ingredient, and it is exactly the same; corn gluten meal. You can use it with peace of mind knowing it won't harm your dog.
10. Natural Elements Weed Killer
This is another non-selective solution that can erase even the healthy plants and grass from your lawn. However, it consists of commercial-grade vinegar with sodium chloride, and it is safe for your fur child.