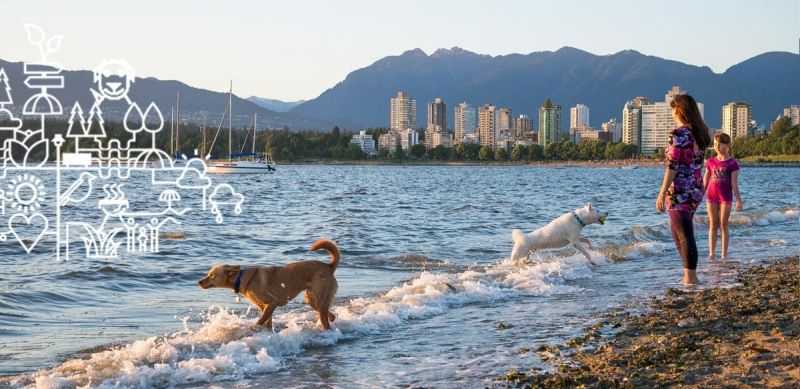 Vancouver is a beautiful place, one can even go as far as to say that it is God's purpose-built park with its scenic views. Unless you are from Vancouver, you'd be amazed to know that this place is a heaven for dog lovers, they have specific locations that attract dogs and dog lovers from all around the world. Therefore, next summer, be sure to book a ticket to Vancouver with your furry child. [1]The Burrard
Best Dog-Friendly Activities in Vancouver, BC
1. Off-Leash Beaches & More
Everybody loves dogs in this part of Canada, I mean they love them everywhere but here people have a soft spot for pooches, and that's the reason why there are eight off-leash beaches. You can take your furry friend there and let them go nuts, as the problem with standard beaches is that there are a lot of people and you must keep your dog on a leash. Kitsilano Beach is a favorite among the locals as it has soft sand with a dog park just around the corner. Even the dog parks are unlike any other place, there are 29 off-leash parks, of course, and you can interact with other owners as well and let your dog, well, be a dog. Stanley Park is one of the most famous dog parks. Now, since you are not a resident of Vancouver, you'd be booking a hotel, but you don't need to worry the slightest bit as there are plenty of hotels and lounges that loves dogs as much as do. In fact, there are plenty of places that cater to dogs.
2. Dog-Friendly Sites
Now, you've been to all the parks and beaches in Vancouver with your furry friend, is there anything more? Well, most certainly there is. While each place has plenty of sightseeing and must-visit locations, however, they do not allow pets, but not Vancouver, there are a plethora of sites you can visit with your pooch. Capilano Suspension Bridge quickly springs to mind when thinking about such locations, it is quite an adventure, while your dog might enjoy the views, you should only visit this place if you aren't afraid of the heights. Maybe, your dog isn't up for a walk, well, no worries, you can take an Aquabus ferry, this way your pooch doesn't have to wet its paws and still enjoy the ocean. This ferry will drop you at Granville Island, where you and your dog can enjoy some local food or perhaps shop.
3. Restaurants & Shops
Yes, there are pet-friendly restaurants in other places as well, however, they just allow a pet inside but aren't particularly friendly to them, not in Vancouver. There are plenty of restaurants and diners in this city, that not only allow your loving pooch inside but also provide them with fresh water, and a lot of pets. If your pooch is being extremely good with the staff, they will even give them doggy treats, and then your dog will demand you to take it back to this place over and over again. As for the pet stores, they are world-renowned, they have exclusive treats available that you wouldn't be able to find anywhere in the world. So, it's best to stack up on your dog's favorite treats from these places. Locals love a store called True Carnivores.
4. Trails & Hike
Alright, maybe you are an adventure seeker, and so is your pooch, both of you need to be one with nature, away from the bustling city to function properly, and what's a better way to rejuvenate yourself and your pooch in nature than a good and long hike? There are 77 trails near Vancouver, while some are closer to the city others are as far as 3-hour drive away, but fortunately, there are plenty of car rentals available, that you guessed it, are pet friendly. Once you reach these trails, they are amazing, and these include solid and loose gravel on the path, with varying elevations. These will be a great exercise for you and your pooch, furthermore, if your pooch is highly active, these trails will exhaust their energy levels because even the shortest one is 2.5 kilometers with at least 25 meters of elevation.
5. The Mountains
While all of these activities are amazing to take a part in with your pooch, these are available in summers, and most trails, beaches, and ferries are closed in the winters. So what must you do in winter? Not to worry, the restaurants are still open, and you can take your pooch to the mountains, Whistler mountain in particular. Your furry child will love it, especially, if they love snow,  because there will be a lot of it. Even if you don't own a dog, you can still enjoy dog sledding. Let's say your trip to Vancouver with your dog was unplanned and they hate snow, well, you can enjoy a cozy staycation in the hotels, as most of them are dog-friendly.
It doesn't matter when or how you visit this place, it's a welcoming place for dogs.