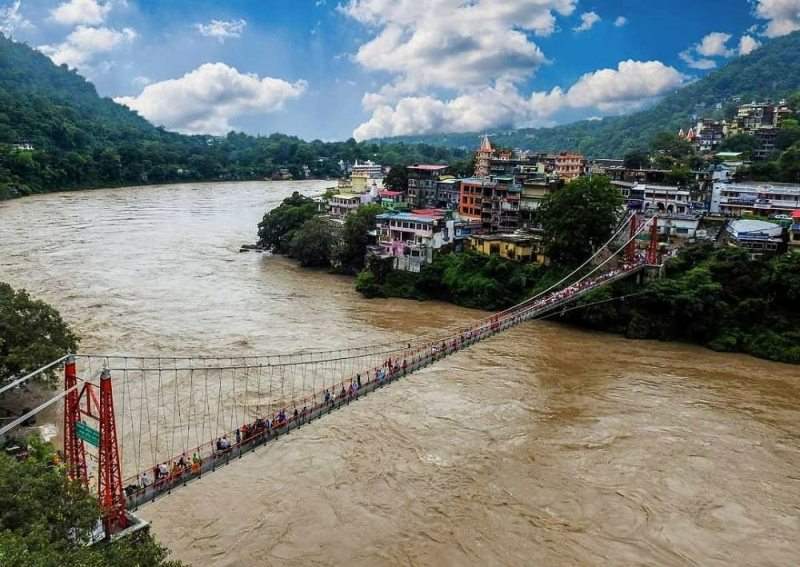 For every North Indian, Rishikesh is the ideal vacation spot in the summers. Not only does it offer great views and an overall feeling of freshness but is also considered one of the best locations to experience the holy river of Ganga. It is also famous for river rafting, as the flow of the Ganga river is at its maximum at this location. If you plan on visiting beautiful Rishikesh with your pooch, you'd be more than delighted to know that there are great hotel options to stay with your beloved dog.
Dog-Friendly Hotels in Rishikesh
These are the top 10 hotels that not only offer accommodation for dogs but also love them as much as you do. [1]Booking
1. Soul Haven
Located in the Ghugtani Village just 500 m from Patanjali International Yoga Foundation, this place offers great accommodation and is a wonderful place to relax and unwind after traveling. While they have traditional rooms, Soul Haven also offers unique dormitory-style rooms with bunk beds, and you don't need to worry about your belongings as they offer secure lockers for each guest. They also offer a buffet breakfast, which is always a plus. As for your pet, they are more than welcome to rest their paws at this location. For the safety of other guests, you can only have your pet in traditional rooms.
2. The Neeraj River Forst Resort
The full name of this place is The Neeraj River Forest Resort Holistic Health Spa, I know it is quite a mouthful; however, it is an excellent place, and as the name suggests, a top-notch spa to relieve all of your stress. This resort offers all the amenities a traveler needs, a minibar in the room along with a kettle, bidet, bathrobes, and a TV with satellite connection. Outside the rooms, there is a swimming pool, a sun terrace, a garden, and a facility to play billiards. You are more than welcome to bring your dog to this location. The staff will be more than happy to see a four-legged visitor, just have them leashed.
3. Hobbit House Hostel
Located in Upper Tapovan, this place stays true to its name, and it has quite a twist when it comes to rooms. They have rooms that can be accessed by a ladder, and rooms are with shared bathrooms. This place is not for seniors, obviously, it is catered towards the newer generation with an open perspective towards life. Unsurprisingly, dogs are more than welcome at this location, and they can enjoy themselves in their garden, or sit by the campsite as long as they are on a leash.
4. Moonlight Mowgli
If your sole purpose to visit Rishikesh is to do rafting, then you must look into this place, as it is close to rafting facilities. You can visit Moonlight Mowgli with your dog, and have them in your room, which they'll love. Another great thing about this place is that it offers express check-in and check-out. You can also access the terrace with beautiful surrounding views. Moreover, they offer currency exchange for foreign guests.
5. Sheela Mohan Palace
The closest hotel to the famous Laxman Jhula as it is located on Laxman Jhula Road, Sheela Mohan Palace offers accommodation that gives you a homely feel, and it doesn't necessarily have a hotel ambiance to it, which is a huge plus, as some hotels can feel unwelcoming. Complying with the homely feel, each room is fitted with a large-size refrigerator so that you can store your and your pet's food. Just don't leave your pet unattended anywhere here, and they'll be more than happy to have you over.
6. Nature Care Village
Are you the type that wants to make your vacation a life-changing event? Then look no further than Nature Care Village, this is a Yoga retreat and you can engage in Yoga with fellow travelers. Additionally, you can go on cycling or hiking in the surroundings because this location is situated in Rajaji National Park, and feel free to bring your dog to this wonderful natural place.
7. goSTOPS
While this hotel sees guests of all kinds, couples particularly prefer this spot, and this is because it offers mesmerizing views of the mountain. This place is closest to the less famous suspension bridge, known as Ram Jhula. If you are a couple traveling with your beloved pet, then this makes this location even better.
8. Dostel
Another interesting spot, which offers great views of the surroundings with dormitory-style rooms, which is to be expected given their logo, "meet new friends". You will find plenty of travelers here, not only from India but from other nations as well, which are more likely on the path of nirvana. This place also offers evening entertainment, and you can enjoy all of it with your four-legged child. Your dog can also make new friends here, as most people travel here with their pets.
9. Live Free
This hotel is also located at the hub of river rafting facilities, so if you are a thrill-seeker, this place might suit you. Interestingly, they serve American breakfast here because of the huge number of international guests that visit Live Free Cafe. With bunk-beds, shared-lounge, and entertainment facilities, this is an excellent place to be with your friends, and that includes your pooch as well.
10. Hill View Apartment
Don't fancy a new-age movement style places? Well, not to worry because Hill View Apartment offers traditional rooms with a private kitchen, so you can cook and enjoy delicious meals for yourself and your dog while gazing at the beautiful views. Moreover, it is a quieter spot with private parking. It is also closeby to river rafting facilities.