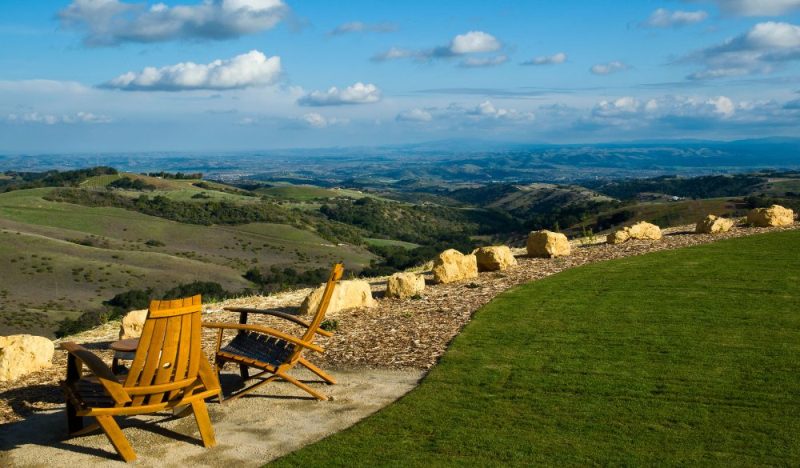 The 1976 Wine Judgement of Paris, proved to the world that French wines were overrated, and the verdict put California on the map for wine lovers. Since then the popularity of Californian wines has skyrocketed, and they are considered equal to sophisticated French wines. Among all of the Californian regions that produce wine, Paso Robles specializes in Cabernet Sauvignon and Bordeaux-style blends. If you are a fan of this style, then Paso Robles wineries are a must-visit, and best of all, your dog is more than welcome to wineries.
Best Dog-Friendly Wineries in Paso Robles
Paso Robles is home to 250 wineries, and as you can imagine not all of them are pet-friendly, but this doesn't mean that others won't welcome your pooch. These are the 10 best wineries in Paso Robles that are always excited to have a four-legged visitor. [1]Paso Wine
1. Bon Niche Cellars
How to know this winery is dog-friendly? Because they are proud to tell you about their crewmember, Barley, a Saint Berdoodle. When you visit this winery, that's located on 10 acres of land with beautiful vineyards, you'll be greeted by Barley, but he'll be soon on his way because he's a busy pooch, as he runs this winery. If you can provide scratches on Barley's back, then he might stick around. You can visit there with your pooch, and enjoy their award-winning Malbec or Bordeaux, while the road leading to this winery is a little rough, but the experience makes it worthwhile.
2. Still Waters Vineyards
This is a small winery run by people with big hearts. They practice sustainable farming, their still-water vineyard is devoted to providing habitat for native species, and they encourage their visitors to bring lunch from local restaurants to grow the community. You'll feel warmly welcomed here, and the experience is amazing, as you taste their delicious wine while soaking in the views with your beloved dog. They also organize music events, where local bands entertain their guests. Overall, a great winery.
3. Windward Vineyard
From the outside, it may appear as if this winery has been abandoned for years, but that's just the aesthetics of the premises. Owners, Marc Goldberg and Maggie D'Ambrosia have an undying passion for Pinot Noir, and you can taste it in their wine, as it is amazing. Plus, they have two rescue puppies of their own. They welcome all for indoor wine tasting, and you'll be in for a treat, as they serve it with local cheese and salami. Both owners love dogs, and they even have a special Instagram hashtag dedicated to these special visitors, so get your pooch and visit this Pinot Noir heaven.
4. McPrice Myers
While all wineries start small, most end up becoming huge business models, and they tend to lose their passion on the way, but that is not the case with this winery. Owner, McPrice 'Mac' Myers, believes in the small production of hand-crafted wines that are beyond amazing. They welcome all dogs, as long as they are on a leash. While they do have indoor tasting rooms, I'd highly recommend you sit on the patio to gaze at the scenic views as you sip on their single vineyard wines while petting your dog. Moreover, take a sovereign back home along with bottles of wine, as they sell dog bandanas.
5. HammerSky Vineyards
HammerSky is a go-to wedding location, and it is easy to see why, because their premise is elegant, the views surrounding the area are picturesque, and the grasslands are open to dogs to run free. Dogs are more than welcome here, and staff will be happy to have a four-legged visitor. Furthermore, if you own a Tesla, they also have Tesla charging stations. Just sit outside with your pooch, as it is deemed as one of the best picnic spots in Paso Robles.
6. Eberle Winery
Other wineries on this list are amazing, but none of them provide a tour to the caves, and you just cannot miss seeing the boar statue, therefore, Eberle Winery becomes a must-visit. Additionally, since its launch in 1983, Eberle Winery has always had at least one poodle named after grapes, and currently, they have two poodle mascots, Sangiovese and Barbera. As any working professional, these two workers receive paid holidays on Christmas, Thanksgiving, and new year's eve. They allow all leashed dogs, and they provide water and treats for all.
7. Bushong Vintage Company
The owner, Jason Bushong, grew up in California during the 80s, and just like any other kid of the time, he loved collecting vinyl records. You are more than welcome to play from a collection of 1,000 vinyl records at this winery as you sip on their flavorsome wines. Staff encourages you to relax, and you can be yourself, there's no need to be pretentious at this location. All leashed dogs are welcome here.
8. Barr Estate Winery
A family-owned and operated winery that has been producing exquisite wines from the mid-2000s. Owners of this winery truly understand hospitality, as they'll be greeting the guests and even pouring wines for you. Riley, a dalmatian, can be seen roaming this winery, as she is a hard-working member, and would love to be around guests for pets. You can bring your beloved dog to this winery, and sip on their single-vineyard wines.
9. Grey Wolf & Barton Family Wines
As you visit this place, you'll be greeted by two wolf statues at the entrance, following that you'll be welcomed by two dogs of the family, Ginny, and Bailey. Owners believe in a pet-friendly experience, and if you are lucky, their cat, Willy might pop up and say hi. Their wines are amazing, no doubt about it, but you must taste their food, you'll have a flavor explosion in your mouth. Also, bring along your fur child to this winery, just have them leashed.
10. Two Moons Cellars
This winery puts heavy emphasis on the human mind, and you can find owners and other people in yoga poses here. Even their wines are named after mind's conditions, such as balance, manifest, angst, and more. Upon visiting this place, you'll be greeted by Lawson, a yellow labrador and a hard-working member of this winery. Feel free to bring your dog to this winery, and they'll enjoy it as much as you.