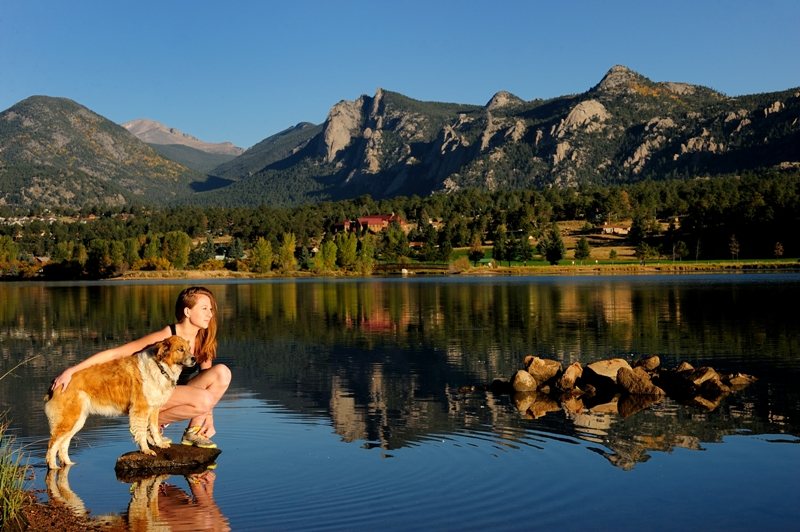 In the modern world, we are always sitting at our workplace and schools, and most of us live a sedentary lifestyle, especially after last year's quarantine. Therefore, it becomes logical that we escape to active vacation spots, and there cannot be a more appropriate location for this than Estes Park, Colorado, also known as Colorado's Original Playground. This is a dog-friendly location, and you will come across many dog owners enjoying quality time with their dogs here.
Best Dog-Friendly Hikes in Estes Park
Even if you visit this place without your pet, you'd still find plenty of physically engaging events such as mountain climbing and kayaking. When it comes to enjoying yourself with your dog, what could be better than a hike? Especially, in the Rocky Mountains, and these are the 5 best trails in Estes Park. [1]Visit Estes Park
1. Kruger Rock Trail
This out-and-back trail is best-suited for beginner hikers or seasonal hikers who want to take it easy. Kruger Rock Trail is on the shorter side at 2.9 kilometers one way. You'll experience decent views along the trail, but the gorgeous view at the summit makes it all worth it. If this is your dog's first hike, then it is a great starting option because it is an easy trail with not many elevation changes, and with clear markings. As for the rules, you must keep your dog on a leash, and there is also a $9 entry fee. If you happen to be a traveler with an RV, there is also a camping ground available for your needs.
2. The 119 Loop
Not to be confused with Pierson Point Road #119, this is a looped trail that you can access from Pierson Point Road #119. Drive as close to the starting point as you can because there is a steep hike before you reach this trail. Once here, you'll be met with beautiful scenic views, it is also a great option for beginners and people who prefer areas with fewer hikers. You must keep your dog leashed because horse riders often use this trail as well.
3. Crosier Mountain
An intermediate trail that has an elevation difference of 400 meters, is an amazing option for seasoned hikers. This is an accumulation of 3 trails that vary in distance, 3.1 kilometers, 5.3 kilometers, and 7.3 kilometers, however, if you are up for a challenge you can cover the entire distance in one go. Mostly, the elevation changes are gradual, but there are some segments with a steep climb or descend. Also, there are paved surfaces on certain parts of this trail. Furthermore, be prepared to meet local wildlife on your hike, as elks and deers are common on this trail. For the dogs, you must keep them on a leash, and they'll enjoy this amazing trail.
4. Buchanan Pass Trail
The first intermediate to difficult trail on this list, not because of terrain or the environment, but the distance. Buchanan Pass Trail will have you hiking over a distance of 25 kilometers one way, with a significant change in altitude of 900 meters, thankfully, it is gradual. Undoubtedly, it is not recommended for beginners and new dog owners. You'll also find individuals camping on this trail, and because it also allows horseback riding, you must have your dog on a leash.
5. Lily Mountain Trail
While this trail is only 6 kilometers long, it is rated as a difficult trail. The reason behind this rating is the elevation change, you will climb and descend on extremely steep sections that are about 300 meters in height. This might deter away beginner hikers, however, this attracts experienced hikers to this trail, and that's why it is always busy. Just have your dog on a leash while you hike through Lily Mountain Trail, and your energetic dog will love it here.