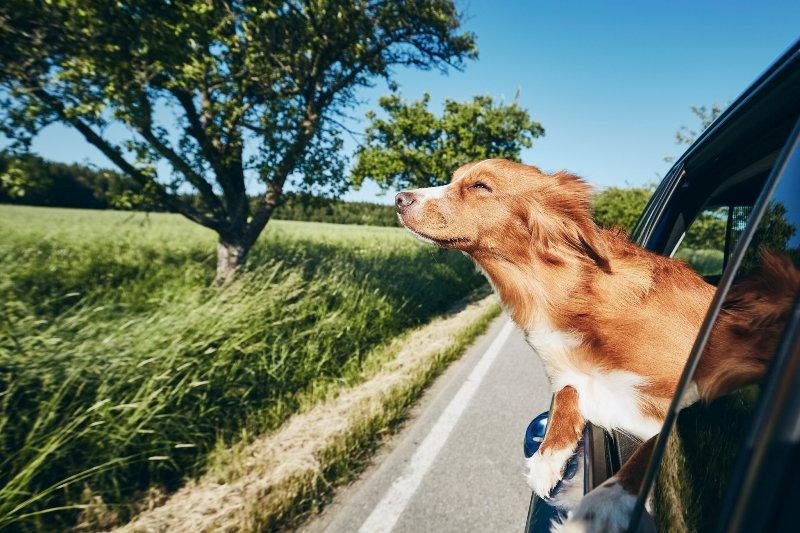 If you are anything like me, you are a car person. It doesn't matter what type of car it is, you just want to learn more about it, and if possible drive all the cars in the world, and praise the mighty, now fleeting, v12 engine. However, you are a dog parent, and with such a loving fur child, comes a lot of responsibilities, which begin with saying goodbye to your coupe. It's time to invest in a dog-friendly car.
Top 10 Dog-Friendly Cars
When it comes to cars, there are plenty of big cars on the market that has ample space inside to transport even the largest hounds. However, other things separate bad and good cars for dogs, such as the material used for cargo lining, the opening angle of the doors, and much more. With that said, these are the top 10 dog-friendly cars. [1]Motor Biscuit [2]Cars US NEWS
10. Mercedes-Benz E Class Wagon
Yes, it's quite a mouthful, but that is with all the German cars, a little price to pay for the comfort of your dog, and since it's a Benz, yours' as well. This executive wagon is similar to the regular E class except it is stretched in the back, that can even carry large dogs like Newfies. The common problem with regular cars is that their boot is tiny, and the only place to keep your dog is in the backseat. It is a viable option, but it fails when you have to take your dog to the beach, or veterinarians in a crate. However, with E class' elongated cargo and flat boot opening, you can easily transport your dog, plus, the rubberized floor lining is a huge bonus, which is really easy to clean.
9. Kia Soul
Coming straight from the prestigious Mercedes-Benz to a Kia might sound like a huge downgrade, but we are focusing on the comfort of our dog, and not all of us are business owners. To call Soul an SUV might be a bit of a stretch, but it certainly is a popular car among dog owners, why? If you have a smaller dog then you can easily place them in the rear seats, because the headroom in this vehicle is excellent. Now, if you are a parent of a large fur child, even then, this is a great choice for you, simply fold down the rear seats, and you have enough space for any large dog. Moreover, it is lined with durable cloth and hard plastic that is extremely easy to clean. Simply vacuum it and wipe it with a wet cloth.
8. Honda Odyssey/Toyota Sienna
The eighth place is tied between the best-selling American minivans. Your choice will ultimately depend on your preference for either of these Japanese brands. Both of them offer side-sliding doors with power liftgates. Got more than 1 dog? Well, these vans can easily cater to 3 average-sized dogs in the back, as in both minivans the second and third seats can be folded, which are lined with either cloth or leather, depending on the trim, either of them is easy to clean. Furthermore, both of these come with a tri-zone climate to make sure your fur children stay cool in the back.
7. Chevrolet Colorado
Do not prefer vehicles that can only work on paved roads? Are you a dog parent, who seeks adventure with your fur child? Well, then this 4×4 pick-up truck by Chevy is your best choice. Before you ask why F150 isn't on this list? It might be the best-selling vehicle in the United States, however, it only provides a large cargo bed for dogs. Whereas, Colorado, has a low-riding tailgate, so your dog can easily jump in and out of the vehicle. However, in some countries, it is illegal to carry your dog in the cargo bed, even then this truck has vinyl seats that are easy to clean, a foldable rear bench, and comes standard with all-weather rubber mats. Since it is a proper 4×4, you can take it anywhere you want, and it certainly got the power and torque to make it push through any terrain.
6. Jeep Wrangler
Now, you might an adventure seeker, but think the Chevy Colorado is just too big for your needs, well, then you cannot beat the rugged Jeep Wrangler. Unlike other cars on the list, this isn't built for comfort or amenities, it is designed to be durable while conquering uneven terrain. You might be wondering, how it is good for your dog then? Well, for starters, you can easily take off the doors of this car, access cannot get easier than that, and Jeep knows that the owners of this vehicle will take it off-roading with a dog, therefore, it comes a huge variety of dog-related accessories. If you can think of an accessory, Jeep has that option available.
5. Honda CR-V
One of the best-selling crossovers in the United States and Canada, Honda CR-V is a great choice for dog owners. Since 2019, Honda has made new adjustments to this vehicle, and the loading height is now lower than even the Chevy Colorado. The rear seats are foldable, and once folded are completed flushed with the rest of the cargo lining. Honda CR-V also comes with plenty of storage pockets in the back, to store your fur child's treats and toys. Plus, you can also adjust the height of the stow space in this vehicle to cater to your dog's size.
4. Tesla Model 3
While the Tesla Model S and Model X are also equally good, certain features were unveiled with the arrival of this particular model, that's why it is on this list. One of the most defining features of this automobile is called a dog mode, in this, you can safely lock your car and the huge 15′ inch screen will display a message saying "My owner will be back soon", with the temperature to show people that dog is safe inside the car. Additionally, it is an electric vehicle, meaning no engine noise whatsoever, which is a huge pro for dogs. While it might be a boring vehicle for car enthusiasts, the world is heading in this direction.
3. Mini Clubman
If you were to buy a British hot-hatch, you'd go for the Mini Cooper, but now, you are buying it for your dog. Well, you can still have a Mini, they make Clubman, which is a ballooned-up version of the Cooper. One unique feature of this car is the split-open tailgate, this design allows for dogs to easily hop in and out of the car. It has plenty of cargo space to allow your pooch to easily stretch on the go, and similar to Jeep, Clubman comes with a huge selection of dog-related accessories. Plus, the cushioning in the boot of this car is a great comfort feature for dogs. Also, if you know anything about Mini, they don't like boring colors, you can heavily customize the interior of this vehicle, and the more colors mean your dog will have more things to get curious about.
2. Land Rover Discovery
I would personally say this isn't a true Land Rover because it just doesn't come with the world-renowned 4×4, but it is equipped with an All-Wheel-Drive system. However, for dogs, Land Rover Discovery is the best SUV in the market today. It has ample cargo space for your pooch and comes with industries' first, foldable rear seats via central touch screen. While these features are nice, their Five-Star Dog Pack customizes your Discovery into a vehicle that your dog will love. In this package, you will receive soft dust-resistant mats, a built-in ramp, water bowls, a portable rinse system, and much more. If you have the money to buy this premium SUV, then it might be the best choice for you and your dog.
1. Subaru Outback
It doesn't matter what list you look up for dog-friendly cars, this vehicle will always be on the list, and probably at the top. It has been a favorite of dog owners for many years now because this vehicle comes standard with a rugged interior and mats, which are also soft to the touch. Furthermore, there are purposely built anchor points for canine-carrier, which all other vehicles are missing. Once the rear seat of the Outback is folded, it is completely flat, and your lovely dog can even lay down. Also, its tailgate is fairly is square-shaped, which allows easy access, and even if you want to have your pooch in the middle row, you certainly can, as it has a great room there as well. Still not sold on the Subaru? It comes with all the dog-related accessories similar to other vehicles, but these don't cost an arm and a leg.