One of the most diverse cities in the world, Toronto is an amazing place to be, and its downtown is world-renowned with structures like CN Tower, Eaton Center, and Nathan Phillips Square. This is one place that you can visit countless times, and will never get bored of it, as events are constantly organized here, also, you're likely to find new things here, which you may have missed last time. Toronto is a dog-friendly city, and there are even off-leash areas, where you can let your dog run free, so regarding the safety of your pet and others, you must train them, and fortunately, there are amazing dog trainers in this city.
When Hounds Fly
The mission of this training center is to strengthen the bond between humans and canines, and since its launch in 2010, they have served over 12,000 dogs, which is an amazing feat in itself. They utilize the clicker technique, developed and made famous by the popular dog trainer, Karen Pryor, and When Hounds Fly only uses positive reinforcement. Their staff comprises 14 certified and competent professionals. Also, there isn't a single year that goes by without this academy appearing on the media or news, for good reasons, of course. Combined, they have 16 different classes, and each one of them is catered to different needs. When Hounds Fly provides group training for puppies, foundation skills, obedience, and scent detection. As for private classes, they include all the group classes in addition to preparing dogs for a newborn, separation anxiety, hyper0reactivity, and aggression. Moreover, they include seminars and phone consultations as well, and if that's not enough, they have four locations throughout Toronto, but the Dundas Street one is most popular.
Address: 1108 Dundas St W, Toronto, ON M6J 1X2, Canada,
Website: http://www.whenhoundsfly.com/
Contact No: +1 647 993 2275
Location on Google Maps:
Mellow Vibes Dog Training
Mellow Vibes Dog Training Center states that they won't charge you a single dollar if you don't see any results, now, that is a bold statement; however, they only provide their services once they have evaluated your dog, which only seems reasonable. They don't take the cookie-cutter approach, but they make customized plans for each dog based on positive reinforcement. Once a dog is transitioned into a calmer pooch, they additionally spent 2-5 hours with the owners to teach them how to maintain this state of the dog. Mellow Vibes Dog Training guarantees the results regardless of any issues, they provide puppy training, obedience classes, behavior modification, daycare, and boarding services. Furthermore, all of their services are in-house.
Website: http://www.mellowvibesdogtraining.ca/
Contact No: +1 416 537 7022
Email: contact@mellowvibesiriedogtraining.ca
Location on Google Maps:
Creature Comforts Dog Training
A force-free training academy that has a truly positive attitude when it comes to training and correcting difficult dogs. One unique thing about this academy is that they communicate well with dogs, and if a dog makes it clear that it isn't interested in training or being a friend, then, staff at this training center is quick to point it out.  Their staff comprises Joey McKinstry, Tamara Arnew, and Miranda McGillivray, all of them have been working with dogs in one way or the other since their childhood, and they are passionate about helping dogs and their owners. They provide walking, sitting, training, and boarding services. When it comes to training they provide puppy training, obedience classes, and behavior modification.
Address: 909 Dundas St W, Toronto, ON M6J 1W1, Canada
Website: https://creaturecomfortsdogtraining.com/
Email: creaturecomfortsdogtraining@gmail.com
Location on Google Maps:
All Dogs Toronto
Owned and operated by Camille Salter, a certified dog trainer, who doesn't rely on intimidation or fear to train dogs. Camile only uses positive reinforcement and science-based techniques. She also keeps herself up-to-date with the latest trends and findings in dog training to continually enhance her methods. Her private consultation may come off as expensive; however, she doesn't push her services onto clients, and will patiently address the issues with your dog, and listen to your expectations. Finally, once a dog has been evaluated, she makes a customized plan that works with the lifestyle of her clients, and she deals with issues like excessive barking, separation anxiety, leash reactivity, aggression, and much more. She also provides dog walking and sitting services.
Address: 10 Huntley St #703, Toronto, ON M4Y 2K7, Canada
Website: http://www.alldogstoronto.com/
Contact No: +1 647 467 0354
Email: alldogspetservices@gmail.com
Location on Google Maps:
Marley & Me Dog Training
Joseph has always been fascinated by dogs all his life, but a turning point came into his life when his dog was becoming difficult, as she developed aggression, anxiety, and became nervous. Joseph took it to himself to train and change this behavior, and after patiently working with his dog, he had brought her to a much-relaxed state. He wanted to help other dog owners, who were facing similar issues. To become a professional dog trainer, he joined The Working Dog World, and this is where he learned how to professionally train dogs, and this sparked a new passion in him. Now, as a professional dog trainer, he provides puppy training, obedience classes, scent-work training, behavior modification, and he also offers his services virtually.
Address: 2283 Dundas St W, Toronto, ON M6R 1X6, Canada
Website: http://marleyandmedogtraining.ca/
Contact No: +1 647 975 2739
Location on Google Maps:
Follow The Leader Inc.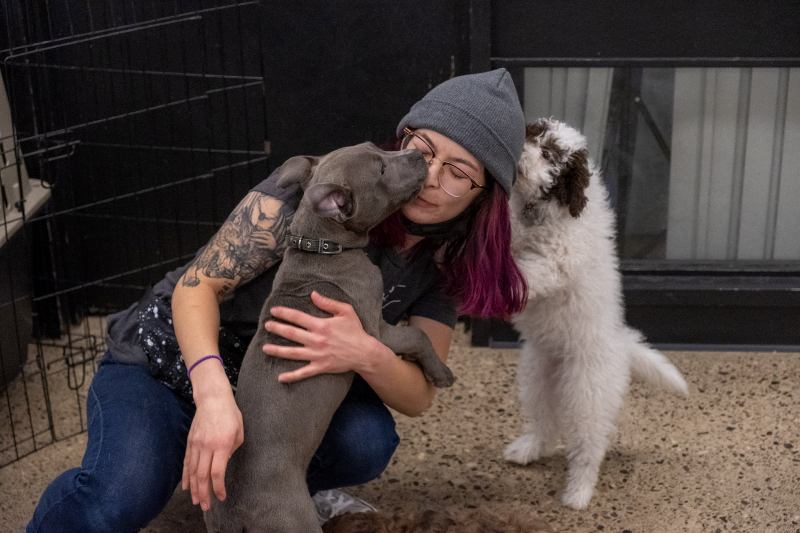 Co-founder of Follow The Leader Inc., Danielle is fully aware that many people in the market claims to be dog trainer, but have no credentials, nor do they have evidence to show that they have some special talent to tame and train dogs. Therefore, all of their staff is certified by top dog training academies in the world, and they annually attend seminars and sit in examinations to maintain their prestigious certificates. Moreover, they understand that not every owner has time to learn each technique to control the dog, so they teach extremely easy methods that can even be understood by a 5-year-old. They specialize in behavior modification along with puppy daycare and in-house training.
Address: 949 St Clair Ave W, Toronto, ON M6C 1C7, Canada
Website: http://www.followtheleaderinc.com/
Contact No: +1 416 399 3179
Email: jon@followtheleaderinc.com
Location on Google Maps:
Anji Barton Dog Training
Anji Barton has 15 certificates to her name, and she only uses the clicker technique, developed by Karen Pryor. She only uses positive reinforcement and humane methods to teach dogs, as before becoming a dog trainer, Anji was involved in pet rescues for 10 years, therefore, the idea of using intimidation, force, or fear to train dogs is sickening to her. Anji's academy also trains new pet owners on the dos and don'ts of owning a dog, which allows them to bond better with their puppies. Anji also offers free 15 minutes consultation in addition to providing behavior modification, teaching tricks, foundation skills, and leash walking. You can also purchase books, equipment, and accessories from her website as well.
Address: 381 Front St W, Toronto, ON M5V 3R8, Canada
Website: https://dogtraining.anjibarton.com/
Contact No: +1 416 666 1106
Location on Google Maps:
Gemini K9 Obedience
As the name suggests, this facility has been providing obedience training to both companion and working dogs since 1995. They have a wide range of services depending on your dog. Unsurprisingly, they specialize in obedience training, not only the traditional kind, but they also offer competitive obedience training as well as advanced obedience training for companion dogs. Gemini K9 Obedience also trains dogs for scent-work, personal protection, and alarming for smoke detection or any other hazard.
Address: 643 McCowan Rd, Scarborough, ON M1J 1K2, Canada
Website: https://www.geminik9.com/
Contact No: +1 416 297 1077
Email: trian@geminik9.com
Location on Google Maps:
Sit Stay Learn
This is another excellent dog training center that provides in-house training, which is great for people who are unable to travel to the training centers. Owner and trainer, Janis Mikelberg strongly believes that training puppy is important the moment they enter the house. Also, training them early on makes it easier in the longer run, as with repetition dogs can learn just about anything. Janis also schedule classes for dogs who have trained poorly years ago and are developing problematic behavior. Sit Stay Learn only utilizes positive reinforcement.
Website: http://www.sitstaylearn.ca/
Contact No: +1 905 882 8143
Email: janis@sitstaylearn.ca
Location on Google Maps:
Raising Rover
Although Caroline has always had a dog in her life, a lightbulb moment came in her life when she adopted a new puppy, Kali, and she decided to learn more about dogs based on science. She took 2-year dog mentorship under the leading dog trainers, and finally, in 2005, she established Raising Rover. Caroline organizes seminars and live workshops to educate people about dog behavior, and as for the training, she provides puppy training, obedience training, and behavior modification. For some reason, if you are unable to meet her in person, then, you can opt for her virtual classes.
Address: 105 Heath St W #6, Toronto, ON M4V 1T5, Canada
Website: http://www.raisingrover.com/
Contact No: +1 416 996 7339
Location on Google Maps: