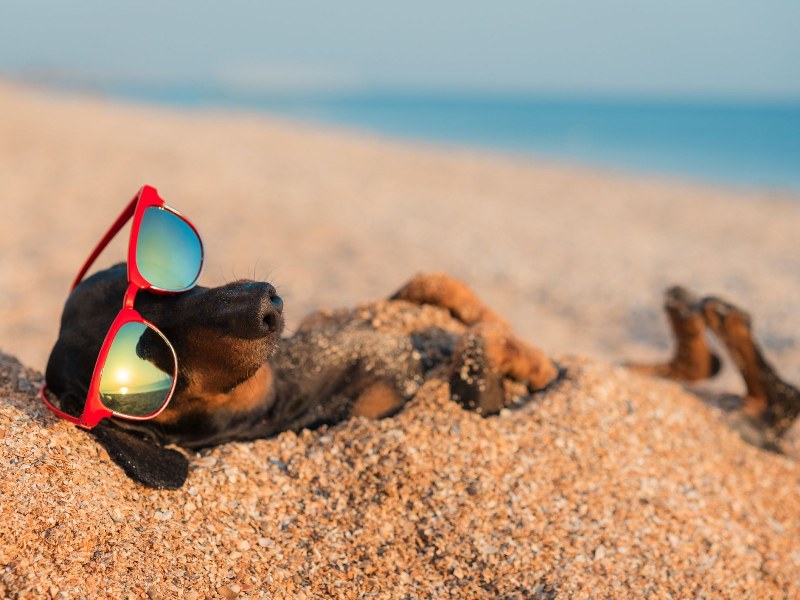 The people living outside of the United States, may not picture relaxing beaches when thinking of New Jersey, however, it is a state that is filled with amazing beaches. In total, there are 44 beaches in New Jersey, but not all of them are dog-friendly. There are selective beaches that allow dogs, either for winters or the entire year, and if you plan to visit this place with your dog, there are some beaches that are a must-visit.
Top 10 Dog-Friendly Beaches in New Jersey
Whether your dog is reserved or has an outgoing personality, you'll find the perfect beach for your pooch here. [1]Planet Ware
1. 8th Avenue Dog Beach
This is among one of the best beaches in the state. A beach stretched between Casino Building and Asbury Park Convention Center, where you'll find yourself going back in time because you'll be hearing a lot of 80s music with plenty of old structures and houses. This is an off-leash beach during the summers, and a leash is required from September to May. During the busy season i.e., months of May and September, dogs are allowed after 6:30 PM to 8:30 AM. This beach offers soft sand and clear waters. Some things to keep in mind, all dogs must be licensed, vaccinated, and well-behaved. You will be asked to leave if your dog exhibits aggression.
2. Brigantine North End Beach
A beautiful beach that welcomes all dogs from October to May, as long as they are on a leash that is less than 6 feet in size. This place is great for curious dogs, as it is a 2.5-mile-long stretch filled with soft sand, dunes, and vegetation. It is among one of the least developed beaches in the state, which is great for dogs, however, you'd need to pay a $10 fee for a day to enter this beach, and if you plan to bring a 4×4 or ride a Jet-ski, then you must produce a permit.
3. Longport Dog Beach
Unlike the previous two beaches, Longport Dog Beach welcomes canines all-year-round, also it is an off-leash beach. It is about 10 miles South-West of Atlantic City. Allow your beloved four-legged friend to stretch their legs and run around freely in the soft sand, and soak in the refreshing water. However, being such a dog-friendly beach, it attracts a huge number of dog lovers, and it is packed during the afternoons, therefore, plan your trip accordingly. Before visiting this beach, remember to pick up poop bags, and clean up as you leave because there are no trash cans available here.
4. Fisherman's Cove Conservation Area
As the name states, it is a conservation area spanning over 55 acres of land filled with greenery, amazing trails, and soft sand. It is the last undeveloped area to protect wildlife. Fortunately, it is dog-friendly, you can have your dog roam this beautiful beach on a leash, plus, the waters are shallow, so you can also dip along with your dog in the water. Furthermore, fishing is allowed here as long as you can provide the permit, which is also great fun for your dog. Do keep in mind that you will not find any sort of amenities here, therefore, it is best to pack water and snacks before you visit this place.
5. Gateway National Recreation Area
Just like the previous beach, it is also a part of a recreation area that spans over 2,700 acres, and it is laced with lush greenery, inviting trails, parks, and of course, beaches. This is an on-leash area, and you can visit this place with your fur child from March till September. According to the statistics, this area is visited by 10 million people each year. Just provide a permit, and you are also allowed to boat here as well. There is a $15 parking fee, but it is worth it.
6. North Wildwood Dog Beach
Considered one of the best beaches in New Jersey, it is located in the city of Wildwood, right next to a 25-feet tall fire hydrant, and the best thing is that the access is completely free. It stretches from Maple to Glenview Avenues. To avoid any unnecessary aggression, it is divided by fences, to separate large dogs from small dogs, also leashes are required. Another, great thing about this beautiful beach is that it is open all year round for dogs.
7. Stone Harbor Beach
This beach is ideal if you plan to simply go on a walk with your four-legged child, or let them soak a little in the ocean, as it is completely flat, filled with soft sand. You can visit this place for the entire year as long as you keep your dog on a leash, and visit this place between 6 AM and 9 PM, but do keep in mind that the area between 80th and 83rd Streets doesn't allow dogs. Other than that, feel free to roam around on this beach with your dog.
8. Beach Haven Beach at Taylor Avenue
This spot is a hub for dog lovers and tourists, as this particular area has plenty of dining, shopping, and entertainment options. You can visit this beach with your dog from September to May, and they must be on a leash that is under 6 feet in size. This beach offers soft golden sand, with amazing water waves, great for surfing. If you plan to move to this area, you can also purchase a seasonal pass. Overall, a great spot to enjoy with your dog.
9. Barnegat Light Beach
What's better than a 10-mile-long beach filled with soft sand, and a lighthouse? That it is a dog-friendly beach. You can visit this beautiful beach with your pooch from September to April, just keep them on a leash that's under 6 feet. Fishing is also an available option here, you can enjoy that with your dog as well. There are also dunes, and vegetation to suffice any curious dog. There is an entry fee of $5.
10. Higbee Beach Wildlife Management Area
A 1.5-mile-long stretch of sand in a wildlife management area that is just over 1,000 acres, doesn't get better than that when it comes to areas loved by dogs. You can have your dog play in the sand all day long, and once they get tired of the same scenery, feel free to walk them in the forest. A leash is required, and ensure your dog doesn't attack the migratory birds coming to this area.