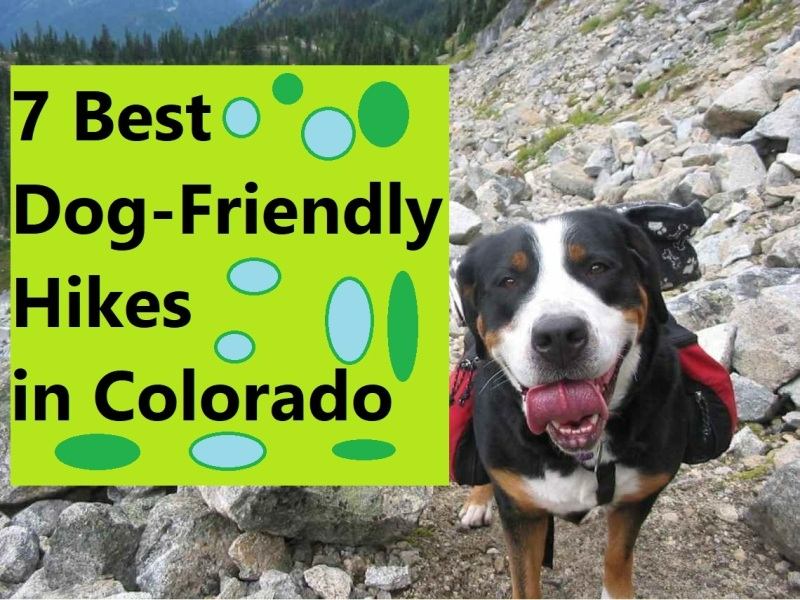 If you are a dog parent with a desire to always go on an adventure, then Colorado is the place for you. Because it is the home of the Rocky Mountains, Coors beer, and most importantly, dog-friendly hikes. Every dog will love to hike on these trails, and if you have an especially active dog, then they'll be enjoying it thoroughly.
Best Dog-Friendly Hikes in Colorado
While it is hard to officially rate these trials because the best one is where you and your dog enjoy the most, these are listed from trails for beginner to advanced hikers. [1]REI
1. Evergreen Lake Trail
This trail may only be 1.3 miles long round trip, but it is great for beginner hikers and new dog owners. It is also a looped hike, meaning you don't have to worry about finding your way back. Here you can understand your dog's nature, and then move on to more treacherous trails. It is about 40 minutes drive from Denver, but the roads are fairly empty. While it is a fairly small hike, but the views will make it much longer as you'd be stopping quite a bit to soak in the mesmerizing views by the lake, unfortunately, dogs aren't allowed to swim in the lake. Just keep your lovely dog on a leash, and enjoy this trail.
2. Boulder Valley Ranch
This is also a looped trail, but it is approximately 2.9 miles long with an elevated segment. Though it is longer, it is suited for all fitness levels, but more importantly, for all dogs. Moreover, you can also allow your fur child to roam off-leash in a specific area, as long as you can keep them under voice and sight control. This trail has plenty of grassy meadows to suffice even the most curious dogs. It also houses a lake, but similar to the previous trail, dogs are not allowed to swim in it.
3. Garden of the Gods
With such a name, you can bet it is going to be a great hike. This trail is about 4 miles long, with a designated off-leash area, where you can let your dog run free, and also record some great videos of them. Technically, it is not a looped trail, but it joins back the same main trail. However, this is a magnificent area to jog in with your dog, as you'd be taken away with breathtaking backdrops and rock formations. Just make sure your dog has an extroverted personality because this park is almost always busy.
4. Hewlett Gulch Trail #954
Before you step into this trail, make sure you have doggy poopy bags because you won't find them here, but other than that, it is a great place to hike with your four-legged friend. This trail is suited for people who have been on hikes before and active dogs because it is 8.4 miles long with various elevation changes. However, one great thing about this trail is that you'd be coming across various water streams, and your puppy is more than welcome to splash in them. Oh, and don't worry about the leash, for this is an off-leash trail. There was a huge fire in the region in 2012, and it is still recovering from it, but overall, it is a great trail for dogs.
5. Mule Deer and Coyote Trail
Maybe all of these trails are too easy for you and your hound, you want a little more treacherous path. Well, look no further than two combined hikes, Mule Deer and Coyote Trail, because this 5.7 miles long looped trail is full of elevation, and terrain changes from dirt road to loose gravel. This trail is 8,000 feet above sea level and takes you in the mountains. As for your dog, they must be leashed.
6. Grizzly Lake Hiking Trail
Well, now that you have conquered the previous trail, your dog can't seem to get enough of these trails, and now you wish to take your pooch to a difficult hike. How about a trail that has Grizzly in its name? This is a 7.5 mile-long out-and-back trail that is for seasoned hikers, beginners will find this trail to be a little too demanding. From the beginning to end, you'll climb 2,000 feet, and this trail will reach a maximum height of 12,000 feet. Make sure you allow your dog to rest while returning as they can get completely exhausted, and they must also be leashed. However, be very alert on this trail, as grizzly bears often roam this area, and it's best if you can avoid them.
7. Zirkel Circle
Now, you have gained plenty of hiking experience, and want to go on your first backpacking trip with your dog, then this looped trail is for you. However, despite your excitement, you must be wary because bears and moose often stroll this region. On this trail, you'd cross sunny meadows and shaded forests, which will eventually take you to spectacular views of the lake. The entire path is either grass or loose gravel. While it is fairly elevated, and you'd find people few and far between here, it is required that you must keep your dog on a leash. Before you travel here, it is essential that you learn, how to survive on hikes and deal with bears. Lastly, as exciting as it may sound, this is not a hike you'd want to take as a beginner.