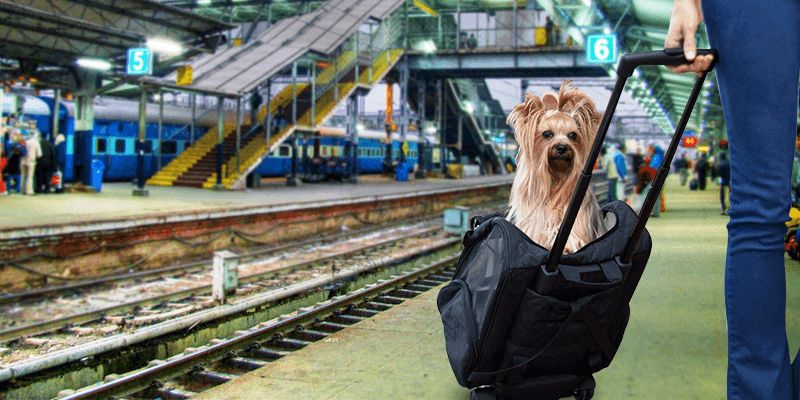 Have you ever cancelled your trip because of your pet? keeping a pet animal is always not an easy task. For those having Pets, they (pets) are almost an inseparable parts in their lives. They are considered as human's best friends. But dilemma occurs when we have to travel and can't afford to leave them home alone, and in the end, we have to cancel our trips.
You have to compromise some of your luxuries because of your pet like- travelling to distant places for a long period of time; because you can't let your pet stay at home alone. Or sometimes you have to hire a pet sitter, which may prove as an extra burden to your pocket.
Now, the question arises, can we travel with our pets? Yes, you can, of course, carry the dogs/pets with you while travelling in Indian trains. But this travel will be a subject to some rules and regulations set by Indian railways.
Let's check how feasible is it to carry your pet with you on the trains:
The Indian Railways is considered the best mode of travelling with your pets. It's easy, affordable, and safe to carry pets along. Railways even have easy laws and rules to book a reservation for our pet. Trains are spacious, which provide adequate space for pets and are well ventilated.
Moreover, trains have designated compartments where your pet can stay with you throughout the journey. Also, the journey through the train often has multiple stops at a regular interval, which gives you an ample chance to buy food or water or any other necessity required for your pet.
Now, let's check the rules and regulations by Indian Railways for animal's reservation:
A form has to be filled before reserving a ticket for any animal called "forwarding note." The Forwarding note on an appropriate form is approved by the Central Government under section 64 of the Railways Act. This form is available online or at I.R.C.A. Office. Click here to get the form.
The sender or his agent has to mention the number of entities or animals he wants to take along. All entries in the forwarding note should be carefully checked to see that they are correctly written by the sender or his authorized agent, who should also enter the date, and sign on the forwarding note.
Under section 103 of the Railways Act, the liability of the railway administration as the carrier of animals and birds is limited to amounts specified below :
Elephants- Rs. 6,000 per head
Horses- Rs. 3,000 per head
Mules, camels or horned cattle- Rs. 800 per head
Donkeys, sheep, goats, dogs, and other animals or birds- Rs. 120 per head
The sender of the forwarding note or the pet owner must agree to all the terms and conditions mentioned in the forwarding note and should be able to pay the exact charges mentioned in the note.
Under section 101 of the Railways Act, a railway administration is not responsible for any loss or damage, or injuries to any animal carried by railways due to any reason like freight of the animal or overloaded wagons.
If the pet owner wants the assured safety of his/her pet, then he/she has to insure the animal and has to present it in IRCA office to claim if any damage happens during the journey. The insurance charges are to be paid by the owner and should be informed in the forwarding note with all the details of the insurance.
The minimum and maximum sizes of containers, baskets, and cages have already been decided by Indian Railways. Also, the number of animals to be carried in a single cage is determined by IRCA. Any other sizes of cages or those containing a large number of animals are not accepted for booking.
There are some parcel rates and waybill instructions in Indian Railways, which have to be kept under consideration before booking a reservation for an animal.
Before the loading of the animal, the station master makes it sure that the wagon or break van is properly disinfected and cleaned.
Health certificate issued by the qualified veterinary doctors is to be provided before the reservation of the animal, provided that the animal does not contain any infectious disease or any other health issue like pregnancy. Photocopies of the vaccination are also to be provided.
In the break vans or cattle wagons, attendants are allowed free as per IRCA Tariffs in the same wagon or in the third class compartment. If there are extra attendants, they would be charged the fair of second class. Families of attendants are not allowed to travel in the cattle wagon. Cooking, smoking, or any other harmful source of fire is not allowed in the wagon.
The loading, unloading, and transhipments of animals are avoided during the night as far as possible. But under special circumstances or request of the owner, it can be accepted only after the owner provides the written consent that he/she is totally responsible for the procedure of loading and unloading on their own after dusk.
The number of cattle with their attendants can be checked by the station master or the ticket checker at any time during the journey. If any excess in the number of cattle or attendants is found, the owner has to pay extra charges either on the spot or an urgent telegram is sent to their destination point where they have to pay an extra amount.
In Case; You Are Travelling With Your Dog-
They have to be accommodated in separate boxes. You can take your pet along with you in the First AC tier by reserving the two or four birth compartment. Mostly, Rs 60/kg is the ticket fee charged for the pet for travelling in the First AC tier.
If you are sharing a berth, you will need the consent of the fellow passengers. If at any point of the journey, the fellow passengers object for the dog being in the cabin, your pet will be immediately removed to the Guard's van and no refund will be provided.
Dogs are strictly not allowed in other passenger compartments.
If you are found carrying a dog without the due booking in an AC First Class or animal wagon, you will be charged at Luggage Rates based on the weight of the dog and have to pay a minimum fine of Rs. 10 per dog. These charges are prepaid in nature.
If you are found violating or breaching any Indian Railways' rule, your dog would be removed immediately to the break van and an extra charge i.e. six times the luggage case, are charged from you.
The passenger must carry their pet's feed on their own.
Do's While Travelling with your pet-
Make sure that your pet is fit to travel and is healthy.
They should be fed at the proper interval of time.
When you are travelling with your pet or taking him out for a stroll, you never know what can happen. At least, you do not want to lose them and that is why it becomes important to have a tag on the collars of the pets.
Pets may have unexpected therapeutic needs, purchase a decent first aid kit for a safer journey.
It is advisable to reach the station well in advance before you commence your journey.
Keep your pet hydrated and soothe them by talking to them. Hearing a familiar voice will put your pet at ease in the midst of unfamiliar sights and sounds.
Make sure that you pack the familiar toys and the same blanket for your pet. Dogs are creatures with habits that they never plan to leave
Don'ts While travelling with your pet-
Don't travel without your pet ID.
Do not overfeed your pet, feed him with small meals after regular intervals of time.
Don't forget the natural call of your pet while they are travelling with you in your compartment. They need to feel comfortable during the entire journey.
Do not disobey the rules of railways.
So, by following the above rules, you can have a safe and smooth journey in Indian Railways along with your pet.