One of the largest cities in the United States of America is famous for its architecture, and undying love for hotdogs, without ketchup, of course. Chicago is a dog-friendly city with plenty of activities to enjoy with your dog. There are dog-friendly beaches, restaurants, pools, and farmer's markets. While there are plenty of locations to visit with your four-legged friend, it becomes essential for the safety of others and your dog that they are trained and socialized properly. For this task, there are excellent dog trainers in Chicago, and these are the top 10 of them.
Canine Perspective Chicago Dog Training
The Canine Perspective academy's founder and trainer, Jesse San Miguel is an expert dog behaviorist, who is also known as the Chicago Dog Whisperer. He has helped hundreds of dog owners with their difficult dogs. Although the business started as a home-to-home service in 2012, the business was doubled within a year, and finally, the facility came to be. Jesse San Miguel specializes in training dogs with aggression and behavior problems. In addition to these, Canine Perspective offers puppy and obedience training, not only that, Jesse closely works with each dog owner to create a diet plan for dogs to give them optimal nutrition. They also have daycare and boarding facilities, where your dog can socialize and learn how to behave with other dogs. After years of top-notch service and hundreds of satisfied customers, Canine Perspective Chicago has become a reputed dog training academy.
Address: 2700 N Campbell Ave, Chicago, IL 60647
Website: https://canineperspectivechicago.com/
Contact No: +1 773 661 6762
Email: info@canineperspective.com
Location on Google Maps:
Anything is Pawzible
Quite a catchy and unique name, to say the least. This amazing academy was established in 2001, and ever since, they have been helping dogs and their owners. They offer group, individual, and virtual classes. As for the group sessions, there are 13 different classes to choose from, and each one is catered towards the different age groups of dogs and their behavioral needs. Owner, Rendy Schuchat, M.A. of Psychology, strongly believes in positive reinforcement, and with two decades of experience in correcting even the most aggressive dogs, she can easily say that Anything is Pawzible. While their main location is in Chicago, they also have a second academy in Austin. They specialize in obedience training and behavior modification.
Address: 1330 W North Ave, Chicago, IL 60642
Website: http://www.anythingispawzible.com/
Contact No: +1 773 919 7297
Email: rendy@anythingispawzible.com
Location on Google Maps:
Sit Means Sit Dog Training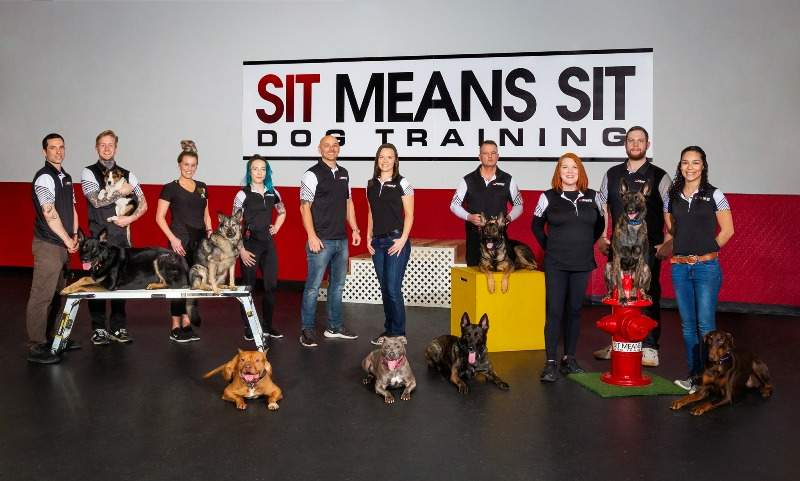 This is a dog training franchise that branches out in major cities of the United States. They are available in Chicago, Elmwood Park, Evanston, Lincolnwood, Skokie, Wilmette, Glenview, and Morton Grove. Their staff is highly experienced with at least a minimum experience of a decade in training dogs. As for the training, they have five separate classes, and moreover, they offer free consultation, which allows them to assess and choose the appropriate training for your dog. They have puppy training, individual sessions, group learning, and two more unique classes, boarding and day boarding. In these, they take your dog to their facility, and train them properly, especially if the dog is particularly difficult. If you want them to train your dog, but you do not want to leave your pooch with them overnight, then you can opt for the day boarding, where you drop your dog in the morning and pick them up in the evening.
Address: 3266 N Elston Ave, Chicago, IL 60618
Website: https://sitmeanssit.com/
Contact No: +1 312 618 9663
Location on Google Maps:
Downtown Dogs Chicago
The highly skilled staff at Downtown Dogs Chicago train dogs on the basis of positive reinforcement and markers. Once the dog learns to communicate via these tools, then trainers move forward and introduce more commands in the training. Their facility has been perfected over the years, and it is an excellent place for your dog to learn. They provide sessions for basic services like potty training and obedience training. Additionally, they do behavior modification, socialize dogs, and even have boarding services. If you are unable to visit them, they offer house training as well, where the staff will come to you and train your dog from the comfort of your house.
Address: 2440 W Hubbard St, Chicago, IL 60612
Website: https://chicagodogtraining.com/
Contact No: +1 312 436 2122
Email: info@dtowndogs.com
Location on Google Maps:
Mannered Mutts Dog Training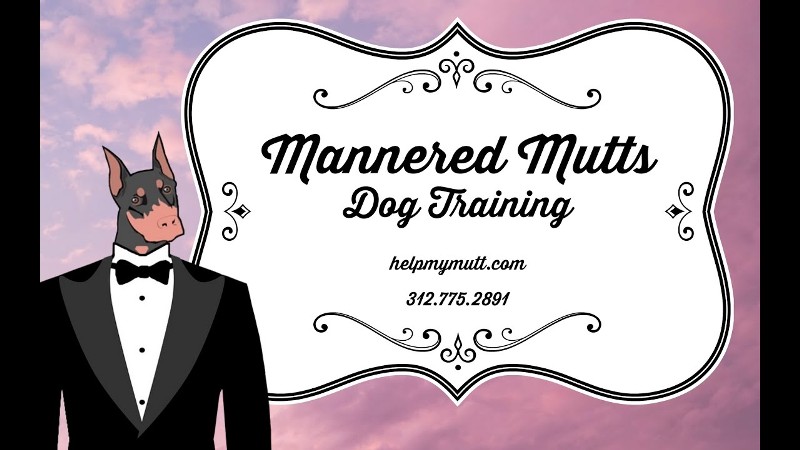 The owner and lead trainer, Kevin Stangler, has been training and correcting erratic behavior of dogs since 2011, after working as an apprentice under the dog trainer, Darrel Hager. The main issue dog owners face with their difficult dog is that they are unable to control the dog on the leash, the constant tugging and pulling of the leash can drain a person both physically and mentally. Therefore, Kevin allows people to build a relationship with their dog, which allows them to control the dog without the use of a leash. Practice is the key here, after the training, constant practice will yield the best results. Furthermore, Kevin also offers free demonstration for clients, for them to witness that a dog can be controlled off-leash.
Address: 13475 W Elm Rd, Lake Bluff, IL 60044
Website: http://www.helpmymutt.com/
Contact No: +1 312 775 2891
Email: helpmymutt@gmail.com
Location on Google Maps:
Chicago Caninie Academy
Chicago Canine Academy is another excellent choice for dog owners with troubled pets. All of their trainers are experienced with all the breeds, and they continue to educate themselves with the latest findings and methods in dog training. They offer a free consultation to accurately pinpoint the cause of the problem in any dog. When it comes to training, they have potty training, obedient training, and individualized classes to give proper attention to the dog. Although their methods are great, some dogs are particularly difficult, and it requires more time to correct their behavior. For that reason, they also have boot camp services.
Address: 4934 W Belmont Ave, Chicago, IL 60641
Website: https://www.chicagocanineacademy.com/
Contact No: +1 773 655 0219
Email: ccadogtraining@gmail.com
Location on Google Maps:
Always Faithful Dog Training
Owners and trainers, Chris and Diane, are highly skilled professionals with plenty of experience with aggressive and rescue dogs. They also offer boot camp services for dogs that require socializing and training with the pack. Always Faithful Dog academy also offers great discounts for military, police, and fire department, along with giving a discount for the addition of each dog. As for their services, they provide puppy training, obedience training, behavior correction, and special training for therapy dogs. Also, they offer competition-level, high-distraction obedience training.
Address: Chicago, IL 60631
Website: http://alwaysfaithfuldogschicago.com/
Contact No: +1 312 339 2788
Email: packleader@alwaysfaithfuldogschicago.com
Location on Google Maps:
Call of The Wild School For Dogs
One of the oldest dog training academies in Chicago, Call of The Wild School For Dogs was established by Jennifer Boznos in the year 1992, and since then, she has been helping dog owners. Apart from training dogs, Jennifer also participates in American and United Kennel Club's obedience competitions with her Border Collies. Jennifer also specializes in intensive training, where a dog learns to behave in the house, greet behavior, behave around a newborn, crate, and leash manners. Along with those, this academy provides daycare, boarding, and obedience training.
Address: 3027 N Rockwell St, Chicago, IL 60618
Website: http://www.callofthewildschool.com/
Contact No: +1 773 539 1088
Email: info@callofthewildschool.com
Location on Google Maps:
Pat's K9 Training
Owner and trainer, Patrick specializes in building confidence in fearful and anxious dogs, along with correcting the behavior of aggressive and reactive dogs. He also ensures that a dog is able to maintain eye contact with its owner and remain in a calm state. Prior to enrolling your dog in one of their classes, you can get a free consultation and a quote. As for the services, Patrick provides basic and advanced obedience training, and he also trains dogs for protection and guarding.
Address: 5704 S Kilbourn Ave, Chicago, IL 60629
Website: http://patsk9training.com/
Contact No: +1 773 656 2274
Location on Google Maps:
Bark Busters Home Dog Training
With a unique and comfortable solution to all dog's behavioral issues, Bark Busters, travel across the state to provide top-notch training to the dogs. Their expert trainers, Howard, Marlene, and Brandon Marks have plenty of experience in this field, and their clients are more than satisfied with their service. For the services, they offer puppy training, obedience training, and special classes for people to avoid dog attacks. As much as we love dogs, they can attack when they are aggressive, this is especially true for strays, therefore, it is a great course to enroll in.
Website: https://www.barkbusters.com/
Contact No: +1 877 500 2275